Warning: This product is not currently available at any store.
Click the button above and PricePlow will email you when the first store has it in stock!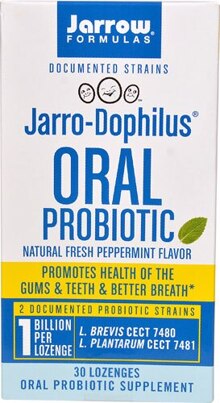 Jarrow Formulas Jarro-Dophilus Oral Probiotic + Vitamin C
Documented Strains
Promotes Health of the Gums & Teeth & Better Health
2 Documented Probiotic Strains
1 Billion Per Lozenge
L. Brevis Cet 7480
L. Plantarum Cect 7481
Oral Probiotic Supplement
77°F No Refrigeration Necessary
Gluten Free
Documented Strains Matter
L. brevis CECT 7470
L. plantarum CECT 7481
Exert significant, specific inhibitory activity that promotes oral and dental health (teeth and gums), better health and restores oral flora.
L. brevis CECT 7480
L. plantarum CECT 7481
Naturally occuring in a healthy human mouth and are low acid producing Lactoabacilli strains to preserve enamel and dentin integrity. Shown in vitro to efficiently adhere to tissues representative of the mouth (teeth, gums, tongue) and resist antimicrobial components in saliva.
Over 1 Billion Documented Strains Per Lozenge'
Jarro-Dophilus Oral Probiotic contains over 1 billion Lactobacillus brevis CECT 7480 and Lactobacillus plantarum CECT 7481 probiotic strains per lonzenge. L. brevis CECT 7480 and L. plantarum CECT 7481 were isolated from the oral cavity of a health infant and studied in vitro and in vivo. These documented stains help promote and maintain beneficial oral microflora for the health of the gums and teeth and better breath.
Units individually sealed in aluminum-aluminum blister cards to better ensure stability and shelf life.