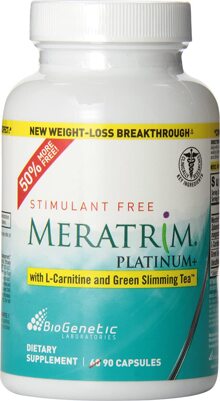 iSatori BioGenetic Laboratories - Meratrim Platinum+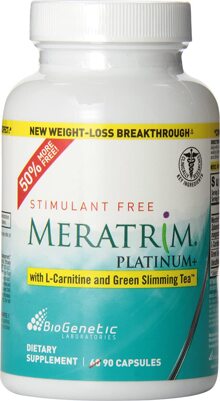 iSatori BioGenetic Laboratories - Meratrim Platinum+
MERATRIM PLATINUM+
Clinical Studies on the key ingredients, used over two weeks, suggest it may help you:
Supports decrease in body weight*
Reduce excess off your waist and hips*
Lose weight faster than with diet and exercise alone!*
MeraTrim—A New Ingredient for Weight Loss
Sphaeranthus indicus extract (East Globe Indian Thistle) has properties which help control lipids (possibly lowering them or preventing formation) and blood sugar/glucose levels. Each part—the leaf, stem, and root—have different properties and effects. Using a non-branded version of the ingredients within MeraTrim may not actually get the extract that helps with weight control.
Garcinia mangostana (mangosteen) fruit extract—despite the name, this ingredient has no connection to either mango or Garcinia cambogia. It has anti-inflammatory, anti-bacterial, and anti-oxidant effects which may play a role on overall weight management.ⱡ∆ Additionally, it may reduce C-Reactive Protein (CRP) levels, a key component of adipose cell formation, which can reduce the ability to control body weight. There is a high correlation between obesity and increased CRP levels. Reducing CRP may help with weight management.
Green Tea Extract Yields Powerful Results
An herbal derivative from green tea leaves (Camellia sinesis), this extract has been reported to decrease high levels of fat in the blood (hyperlipidemia). It possesses a particular polyphenol that may promote fat loss and supports weight management by increasing energy expenditure by increasing overall metabolic rate. The main catechins (anti-oxidant classification) in green tea are epicatechin, epicatechin-3-gallate, epigallocatechin, and epigallocatechin-3-gallate or EGCG (highest in content). These catechins help elevate norepinephrine (an important factor in increasing fatty acid mobilization) levels and keep them elevated to help prolong thermogenesis.ⱡ∆ Best of all, the green tea extract used in Meratrim Platinum+ is decaffeinated.
L-Carnitine Is a Key Ingredient in Fat Shuttling
The L-tartrate version of L-carnitine appears to accelerate the effects of both the direct and indirect function of metabolism by increasing fatty acid transportation (shuttling of fat) within the cells.ⱡ∆ In doing so, L-carnitine mainly increases the rate at which fat is burned; thereby, reducing the buildup of fat and improving overall lean body mass. By raising the level of L-carnitine in the muscle, muscles will utilize more fat by providing fuel more efficiently and helping to spare muscle glycogen. Carnitine has also been shown to reduce chronic inflammation and may be responsible for other oxidative processes and has been confirmed by a study showing that L-carnitine reduced muscle damage during an exercise protocol.