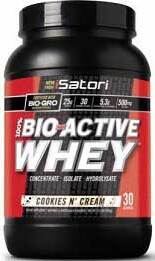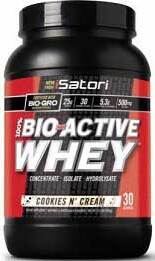 iSatori Bio Active Whey Product Information

Protein is essential to life and additionally important for those who exercise and train hard. 100% BIO-ACTIVE WHEY sets a new standard in whey protein supplements. A scientifically developed formula that includes whey protein hydrolysate, whey protein isolate, whey protein concentrate and BIO-GRO Bio-Active Peptides in a delicious, versatile powder. Perfect for men and women who demand the best, 100% BIO-ACTIVE WHEY fits seamlessly into a nutrition program that demands top quality protein. Simply add 100% BIO-ACTIVE WHEY to your daily routine to help you recover faster, gain more strength and build lean muscle.


Nutrition Facts

Serving Size 1 Scoop
Servings Per Container 30
Amount Per Serving



Serving

% DV

Calories

140

-




Calories from Fat

30

-



Total Fat

4g

5%




Saturated Fat

2g

10%



Cholesterol

95mg

32%



Sodium

95mg

4%



Total Carbohydrate

3g

1%




Dietary Fiber

1g

4%




Sugars

1g

-



Protein

25g

50%




Calcium

173mg

17%




Bio-Bro Bio-Active Peptides

500mg

-



Proprietary Blends


Bio-Bro Bio-Active Peptides

Extracted from micro-concentrated colostrum, yeilding: proline rich peptides, growth factors, immunoglobulins, lactoferrin, fibroblast-GF




*percent Daily Values are based on a 2,000 calorie diet.




Ingredients: High Biological Value Protein consisting of Whey Protein Concentrate, Whey Protein Isolate, and Whey Protein Hydrolysate, Cocoa processed with Alkali, Natural Flavor, Xanthan Gum, Sucralose, Salt

*These statements have not been evaluated by the Food and Drug Administration. This product is not intended to diagnose, treat, cure or prevent any disease.

†Nutrition Facts are a simulation of the product's "Nutrition Label". For the actual Nutrition Label please refer to the product packaging.
Directions
MIX WITH A BLENDER: Add 1 scoop of 100% BIO-ACTIVE WHEY to a blender filled with 6 to 8 oz of cold water or your favorite beverage. Blend for 20-30 seconds on medium setting. If desired, add ice cubes and blend for an additional 20-30 seconds. USE A SHAKER: Utilize the convenience of a shaker cup to never miss a serving of 100% BIO-ACTIVE WHEY. Just pour in 6 to 8 oz of cold water or your favorite beverage and then add 1 scoop to your shaker cup. Cover and shake for 25-30 seconds. STIR WITH A SPOON: 100% BIO-ACTIVE WHEY is instantized, and thus mixes easily. Just pour in 6 to 8 oz of cold water or your favorite beverage and then add 1 scoop to your cup. Stir with a spoon for 30 seconds or until powder is dissolved.
Warnings
KEEP OUT OF REACH OF CHILDREN. Not intended for individuals under the age of 18 unless instructed by a doctor. Do not use this product if you are pregnant, nursing, or contemplating pregnancy. Use this product as a food supplement only. Do not use for weight reduction. Consult a physician or health care professional before using this or any other dietary supplement or before beginning an exercise program. Discontinue use and consult a medical doctor if you experience any unusual symptoms. If you or your doctor has any questions about this product, please call 1-866-688-7679. WARNING for California residents only: This product contains substances known to the state of California to cause cancer, birth defects, and other reproductive harm. Use only as directed. Do not use if packaging has been tampered with. Store in a cool, dry place (60 to 80 degrees F).