Quick Links to Our Prices Price History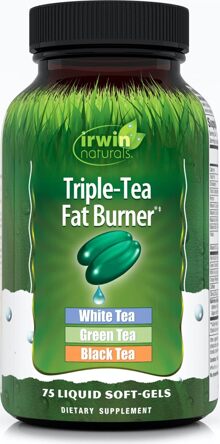 Irwin Naturals Triple-Tea Fat Burner
Triple-Tea Fat burner is infused with a powerful
mix of White, Green and Black Tea extracts providing a combination of fat metabolizing ingredients with super antioxidant support.* When used with exercise and a healthy diet Triple-Tea Fat Burner can help boost your body's fat burning power and increase your energy.* Plus, it provides anti-oxidant and immune system support.* The Epigallocatechin-3-Gallate (EGCG) levels in each of the three tea extracts are standardized at 50% and have been scientifically surmised to provide fat burning power.* Triple-Tea Fat Burner is one of the most pure tea blends on the market today with each liquid Soft-Gel delivering 150 mg of EGCG. Each of the teas is processed differently providing a variety of antioxidants and a blend of key nutritional compounds such as polyphenols, catechins and theaflavins that assist you in your weight loss program.*
What Makes Us Different:
Liquid Soft-Gels: The contents of these easy-to-swallow liquid soft-gels are quickly released in the body faster than hard tablets and dry capsules, which contain binders and fillers that can cause stomach upset.* Natural Liquid Soft-Gels are body friendly.*
Independent Lab Testing: This formula has passed each rigorous phase of the IPQP (Industry Pure Quality Program), a comprehensive analysis of each key ingredient.
Rain Forest Protection: 5% of our profit is donated to the Rain Forest Alliance and National WildLife Federation. 90% of our future medicines may come from our dwindling rain forests.