Quick Links to Our Prices Price History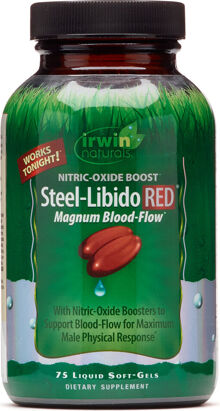 Irwin Naturals Steel-Libido RED
Steel-Libido RED- When it comes to supporting sexual-health, Nitric Oxide is one of the keys!* Nitric Oxide is a naturally-occurring compound in the body that plays a critical role in male sexual health. Nitric Oxide is produced in the inner lining of the vascular system and helps to dilate blood vessels, supporting blood flow to vital organs.*
Nitric Oxide Boosters: Steel Libido RED is specially designed to increase Nitric Oxide in the body.* It features a number of Nitric Oxide "boosters" including Ginkgo, Theobromine and L-Citrulline - an amino acid that promote blood circulation and support physical performance and sexual health.*
Performance Enhancers: Steel Libido RED is packed with nutrients to support physical performance.* In particular, Ginseng improves physical capacity, CoQ10 fuels energy production and L-Theanine promotes a relaxed yet alert state of mind.*
What makes us different:
Liquid Soft-Gels - The nutrients in these easy-to-swallow Liquid Soft-Gels are released fast.
Quality Assurance - Irwin Naturals is committed to providing the highest quality products for your health. We employ compliance testing to ensure purity and potency.
Global Responsibility - Over the years we have donated to organizations that support the environment and the health of our children.
Patented BioPerine - BioPerine enhances the bioavailability, absorption and potency of many nutrients.*