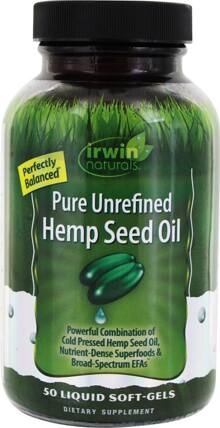 Irwin Naturals Pure Unrefined Hemp Seed OIl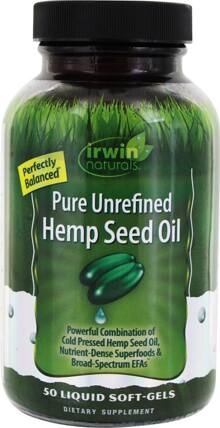 Irwin Naturals Pure Unrefined Hemp Seed OIl
Irwin Naturals - Pure Unrefined Hemp Seed Oil - 50 Liquid Softgels
In a world dominated by processed fast-foods, healthy nutrition is rare to come by. Fortunately, at Irwin Naturals, they take nutrition seriously and developed this powerful nutrient packed formula to help you achieve nutritional balance more naturally.
Irwin Naturals' cold-pressed, Pure Unrefined Hemp Seed Oil is one of nature's most unique and powerful health promoting ingredients boasting a broad-spectrum of essential fatty acids (EFAs) that are in a perfectly balanced blend that is ideal for nutrition maintenance. Not only are EFAs essential to human health, but they are virtually only minimally present in common processed foods making supplementation with EFAs a vital component to a healthy lifestyle.
Pack on the Nutrients
In addition to Hemp Seed Oil, this formula features the nutrient-dense superfood Moringa, known as one of the most highly nutritious food sources on the planet! If that wasn't enough, they combined these superfoods with other beneficial plant oils: Chia Seed Oil, Avocado Oil, and Coconut Oil.
Take nutrition to the next level and use Pure Unrefined Hemp Seed Oil daily to promote balanced Nutrition.
What Makes Irwin Naturals Different:
Liquid Softgels: The nutrients in these easy-to-swallow Liquid Softgels are released fast. Other forms of delivery can contains binders and fillers that may cause stomach upset and offer no nutritional value. Advanced Liquid Softgels provide an optimum delivery system.
Quality Assurance: Irwin Naturals is committed to providing the highest quality products for your health. They employ compliance testing to ensure purity and potency.
Global Responsibility: Over the years they have donated to organizations that support the environment and the health of children.
Patented BioPerine: BioPerine enhances the bioavailability, absorption and potency of many nutrients.
Get Serious About Potency
Irwin Naturals is so serious about potency, bioavailability and absorption that they simply call it their Mission. So Irwin Naturals invests heavily in research and cutting edge formulas. In fact, Irwin Naturals' Liquid Soft-Gel technology, along with their bioperine-infused blends and their potent herbal extracts are setting a new "Gold Standard" in the industry. Are you ready to get serious?

About Irwin Naturals
Celebrating 20 Years of Excellence
For over 20 years, Irwin Naturals has formulated "best-in-class" supplements that address a wide spectrum of health needs. Their extensive line uses an all liquid soft-gel delivery that offers superior advantages over hard-to-digest tablets and capsules. Plus, their signature BioPerine Complex enhances nutrient absorption and potency. Check out the entire breadth of this amazing health conscious brand and put yourself on the path to a happier, healthier you.