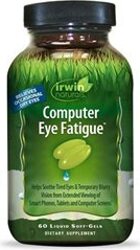 Irwin Naturals Computer Eye Fatigue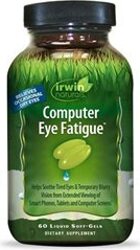 Irwin Naturals Computer Eye Fatigue
Irwin Naturals Computer Eye Fatigue is for a world with ever-increasing use of visual displays in our daily lives. From the computer screens in our offices and homes to televisions, tablets, and smartphones. People subject their eyes to more taxing visual stimulus than ever before. That is why Irwin Naturals developed Computer Eye Fatigue, an advanced multi-pronged formula specially-formulated to help soothe tired eyes and temporary blurry vision, and to help relieve occasional dry eyes caused by the extended viewing of these various visual stimuli. At the heart of this formula is AstaReal Astaxanthin, a naturally occurring carotenoid that has been shown in recent studies to display enormous antioxidant activity. Astaxanthin is the red pigment that gives salmon, crabs, and even flamingos their vivid reddish coloration. Astaxanthin also supports ocular blood flow.
Irwin Naturals Computer Eye Fatigue Features:
Help soothe your tired eyes and blurry vision
Also help relieve the occasional dry eyes
Contains Astaxanthin
No added preservatives
What Makes Irwin Naturals Different:
Liquid Softgels: The nutrients in these easy-to-swallow Liquid Softgels are released fast. Other forms of delivery can contains binders and fillers that may cause stomach upset and offer no nutritional value. Advanced Liquid Softgels provide an optimum delivery system.
Quality Assurance: Irwin Naturals is committed to providing the highest quality products for your health. They employ compliance testing to ensure purity and potency.
Global Responsibility: Over the years they have donated to organizations that support the environment and the health of children.
Patented BioPerine: BioPerine enhances the bioavailability, absorption and potency of many nutrients.
Get Serious About Potency
Irwin Naturals is so serious about potency, bioavailability and absorption that they simply call it their Mission. So Irwin Naturals invests heavily in research and cutting edge formulas. In fact, Irwin Naturals' Liquid Soft-Gel technology, along with their bioperine-infused blends and their potent herbal extracts are setting a new "Gold Standard" in the industry. Are you ready to get serious?

About Irwin Naturals
Celebrating 20 Years of Excellence
For over 20 years, Irwin Naturals has formulated "best-in-class" supplements that address a wide spectrum of health needs. Their extensive line uses an all liquid soft-gel delivery that offers superior advantages over hard-to-digest tablets and capsules. Plus, their signature BioPerine Complex enhances nutrient absorption and potency. Check out the entire breadth of this amazing health conscious brand and put yourself on the path to a happier, healthier you.