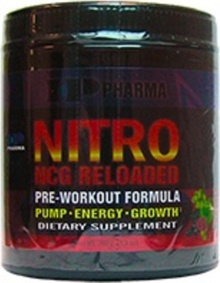 IP Pharm Nitro NCG Reloaded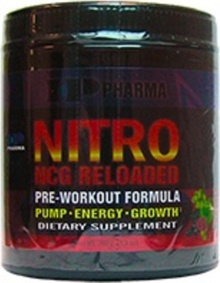 IP Pharm Nitro NCG Reloaded
IP Pharma


Nirto NCG Reloaded

PUMP

Nitro NGC Reloaded is an extremely potent pre-workout supplement.

Nitro NCG Reloaded has a combination of three effective ingredients that have been bonded together to make Arginitrate: Sodium Nitrate, L-Arginine, and L-Arginine Alphaketoglutarte.

This is one of the strongest vasodilators on the market.

This combination has been shown to create nitric oxide and promote vasodilation.  It works by inducing vasodilation of the arteries and the veins, therefore, taking the work load off of the heart since blood vessels are opened and pumping blood through is much easier.  This may help reduce the amount of oxygen and ATP levels needed during training.

The Nitrates are broken down in the small intestine and then taken up in the blood where about 25% of it is converted to Nitrite which then becomes a precursor to N.O. via the Nitrate-Nitrite pathway.‡

---

GROWTH

The use of N-carbamylglutamate (NCG) gives you the performance advantage.

NCG is an amino acid derivative that has been discovered recently to activate the release of stored Arginine from endothelial cells into the bloodstream. Additionally, NCG has been shown to increase protein synthesis and the release of Somatotropin (human growth hormone) into the bloodstream.

NCG is very safe, even in large doses, and has very profound effects on muscle growth, protein synthesis, and extending the duration of your workout‡

Comes in FOUR delicious flavors!

Directions: Add 1 scoop of Nitro NCG Reloaded to 4-8 oz of water and consume 15-30 prior to workout, on an empty stomach.

Strength Warning: USERS CAUTION: Many users may wish to increase the dosage from the recommended 1 scoop. Due to the intense energy, pump, and longer workouts you may achieve, start with 1 scoop before increasing dosage. Do not exceed 3 scoops in a 24 hour period. Powder may settle after shipping. Please shake or stir container before each use.

Supplement Facts

Serving Size: 1 Scoop (6.9g)

Servings Per Container: 30

Amount Per Serving
Serving
 DV %
Total Carbohydrate
1 g
 1%
Dietary Fiber
1 g
 4%
Niacin
25 mg
 125%
Sodium
108 mg
 5%
Beta-Alanine
1500 mg
 **
Creatine Monohydrate
1000 mg
 **
Fibersol-2 (soluble corn fiber)
1000 mg
 **
L-Ornithine Alphaketoglutarate
500 mg
 **
N-Carbamylglutamate
500 mg
 **
Caffeine
150 mg
 **
L-Norvaline
100 mg
 **
Theobromine
61 mg
 **
Evodiamine
5 mg
 **
R-beta-methylphenylethylamine
5 mg
 **
Alpha Yohimbine (std. min. 90% from Rauwolfia vomitoria root extract)
2 mg
 **
Arginitrate
1000 mg
 **
Sodium Nitrate
 *
L-Arginine
L-Arginine Alphaketoglutarate

*These statements have not been evaluated by the Food and Drug Administration. This product is not intended to diagnose, treat, cure or prevent any disease.

** Percent Daily Values not established.

†Nutrition Facts are a simulation of the product's "Nutrition Label". For the actual Nutrition Label please refer to the product packaging.

Other Ingredients: Natural & Artificial Flavor, Silica, Citric Acid, Sucraose, FD&C Red #40.

  Note: Ingredients and Nutrition Data are for the Fruit Punch flavor. Other flavors may vary.

Warning: Do not use this product if you take other medications. Do not use if you have heart attack symptoms or high blood pressure. Consult with your physician before using. Do not accept if seal is broken or missing. Store at 15-30 degrees Celsius. Keep out of reach of children.