Warning: This product is not currently available at any store.
Click the button above and PricePlow will email you when the first store has it in stock!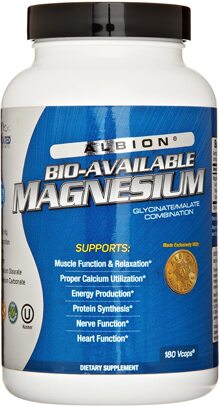 Integrated Supplements Bio-Available Magnesium
Swipe left/right to reveal product information
Feel the Difference Magnesium Can Make
Magnesium Glycinate & Malate
Highest Purity
High Absorption
100% Albion Minerals
No Fillers or Binders
No Laxative Effect
OU Kosher Certified
Eases Stress*
Relaxes Tense Muscles*
Relieves Occasional Sleeplessness*
Recent research conducted by the United States Department of Agriculture found that over 67% of Americans fail to consume the recommended intake of magnesium each day. Our increasing reliance on nutrient-poor processed food is partly to blame, but because modern agricultural practices often deplete important nutrients like magnesium from the soil itself, even people who eat a healthy diet may still be at risk of a less-than-optimal magnesium intake.
And unfortunately, most nutritional supplements don't contain enough absorbable magnesium to help matters much. In fact, the widespread use of multivitamins and calcium/magnesium combination supplements may actually be making our magnesium status worse instead of better. Many such supplements contain two, three, or even four times as much calcium as magnesium, and while both calcium and magnesium are important nutrients, this sort of relative calcium excess is prone to interfere with the absorption and proper metabolism of magnesium.
Magnesium is an integral factor in over 300 enzymatic reactions throughout the body. It helps maintain normal muscle and nerve function, helps to ease stress, keeps heart rhythm steady, supports a healthy immune system, and aids calcium in keeping bones strong. Magnesium also helps regulate blood sugar levels, promotes normal blood pressure, and is known to be involved in energy metabolism and protein synthesis. For all these reasons and many more, we at Integrated Supplements are proud to introduce Albion Bio-Available Magnesium – a high–purity, high–absorption, stand–alone magnesium supplement aimed at helping to correct one of the most common, and most dangerous, nutritional shortcomings of our modern age.*