Warning: This product is not currently available at any store.
Click the button above and PricePlow will email you when the first store has it in stock!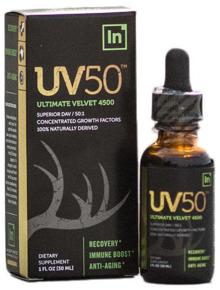 Inspired Nutraceuticals UV50
UV50 - Ultimate Velvet 4500
Concentrated Growth Factors
100% Naturally Derived
Immune Boost
Anti-Aging
Adaptogenic Factors
Adaptogens are natural substances that are considered to help the body adapt to stress and transform your body into a state of homeostasis. UV50 showcases adaptogenic properties by decreasing the body's sensitivity to external factors that cause external stress. By decreasing these factors, UV50 is allowing the body to take full advantage of, and enhance the body's many natural growth factors, including:
Optimal hormone balance
Stress reduction
Increased muscle recovery
Enhanced fat loss
Healthier skin, hair, and nails
UV50 50:1 Ratio far and ahead of competitors
At a 50:1 ratio, UV50 more than doubles the amount of valuable growth factors available to the body. What does this mean? UV50 is allowing our body's to grow stronger, faster, and healthier than before. But what makes UV50 ultimate velvet 4500 from similar products? UV50 and Inspired Nutraceuticals recognized that in order to take full advantage of the benefits found in deer antler velvet, the product must be produced naturally and in its normal state. Others have tried to isolate some of these factors, but by trying to isolate certain factors they had to tamper with the velvets natural state and in essence they lost many of the benefits that can be derived from it, making their products less effective than UV50.