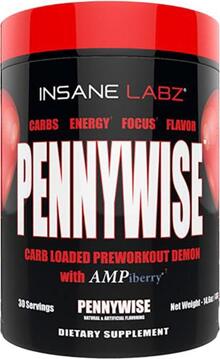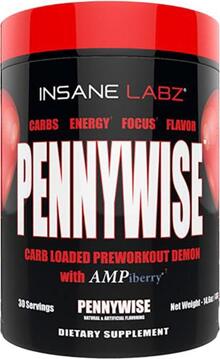 Carbohydrate Pre Workout - Insane Labz Pennywise
If you are looking for Insane Labz distributors, we are one! Best Price Nutrition!
Do you know what is the number one source of fuel for your body and muscles? Carbs! This is a pre workout that is loaded with carbs to help you get away from stopping mid workout! And if you are worried about that weird tingling feeling, fear not because Pennywise does not have Beta Alanine! Take your workout to the next level! Introducing Insane Labz Pennywise!
Pennywise Pre Workout Benefits
Carbohydrates
Intense Energy
Loaded With Caffeine
Laser Focus
Increased Strength
Mind Muscle Connection
Boosted Endurance
What is Pennywise Pre Workout?
Pennywise Pre Workout is a carbohydrate loaded pre workout from Insane Labz. This pre workout has a lot of caffeine to boost your energy while helping to build up endurance and loaded with carbohydrates so your body has the fuel to stay strong! And if you are worried about that tingly feeling, don't worry! Pennywise Pre Workout does not contain beta-alanine so get rid of that fear! If you want a pre workout that can keep up with your body's demands and help you through out the workout, Pennywise is the best one!
Pennywise Pre Workout Flavors
Pennywise (Blue Raspberry)
Killer Punch (Fruit Punch)
Fear (Orange)
How Does Insane Labz Pennywise Pre Workout Work?
Pennywise Pre Workout was designed to fuel your workouts so you can go longer, go harder, and get in the zone. Here is why.
Creatine Monohydrate: Creatine is one of the most used supplements in the world for muscle building! In order to keep up with your workouts, you need creatine! This works because creatine turns into ATP, and ATP is muscle fuel! This will increase your performance and your endurance so you last longer.
Dextrose: This is a sugar substitute that helps your muscles! One of the most important things for muscles is glucose, and Dextrose is just that. When you blend dextrose with ATP, it works wonders on increasing performance and strength.
Caffeine: Of course, we all know what caffeine is! Caffeine can help you with the initial burst of energy and give you that mind to muscle connection.
AMPiberry: This is a patented ingredient from Insane Labz. AMPiberry is there to help optimize all of the components in this pre workout so you get the most out of it. It can also keep you calm and possibility take away jitters that are side effects of caffeine.
Huperzine A: This is a chemical compound that comes from a Chinese plant. Huperzine A can help with boosting cognitive properties and give you a jumpstart to your day. Better focus, better vision, better workout.
Theacrine: This is another form of energy and works hand and hand with caffeine. Just like caffeine, Theacrine gives you that burst of energy but without the jitters and anxiousness.
Infinergy: This is basically DI-Caffeine Malate! Di-Caffeine Malate is made up from caffeine and malic acid! This can help with better digestion which means better absorption of nutrients. Infinergy can increase performance, boost energy, and give you a better focus without the all jitters!
Rauwolfia Vomitoria: This is a natural medicinal herb found in China and even Puerto Rico! Rauwolfia Vomitoria is similar to yohimbe so this gives you energy and aids in fat loss. If you are wanting to be in the zone, this is the ingredient that does just that.
Russian Tarragon: This helps to improve the ingredients' purpose. Increasing nutrient uptake, helping with recovery, and even optimizing ingredients is what Russian Tarragon does best.
How Do I Take Pennywise Pre Workout?
Mix 1 scoop in 10-12 oz of water. Take 30 mins before workout. Do not take more than 2 scoops within 24 hours.
Pennywise Pre Workout Ingredients
Serving Size: 1 Scoop
Servings Per Container: 30
Amount Per Serving:
Calories: 34
Total Carbohydrate (as Dextrose): 10g 3%
Chloride (as Potassium Chloride and Sodium Chloride): 198mg 6%
Sodium (as Sodium Chloride): 99mg 4%
Potassium (as Potassium Chloride): 99mg 3%
PENNYWISE BLEND: 1.4g
Creatine Monohydrate, Caffeine Anhydrous, Caffeine Citrate, Infinergy(Di-Caffeine Malate), AMPiberry (Juniperus Communis), Russian Tarragon (Artemisia Dracunculus L.), Theacrine, Rauwolfia Vomitoria Extract (std. min. 90% Alpha Yohimbine)(rootbark), Huperzine A 1%
Other Ingredients: Citric acid, cilica, natural and artificial flavoring, calcium silicate, malic acid, sucralose, tartaric acid, FD&C Blue #1, FD&C Red #40
Warnings & Side Effects
Do not use for more than 8 weeks. Not intended for use by persons under 18. Do not exceed recommended dosage per day, doing so will not improve results and will result in adverse health effects. Not to be used by pregnant or nursing women or person(s) who have a pre-existing health condition including but not limited to: high or low blood pressure, cardiac arrhythmia, stroke, heart/kidney/liver/thyroid disease, seizure disorder, psychiatric issues, diabetes, stimulant sensitivity or allergies, prostate inflammation, or while taking any other medication (such as, but not limited to: MAO-inhibitor or SSRI's, or that contain phenylephrine, ephedrine, pseudoephedrine or other stimulants.). DO NOT use in combination with other stimulant products like coffee, tea, or chocolate, or alcohol. Do not use in combination with any medications with phenylephrine or caffeine. If you experience rapid heartbeat, dizziness, severe headache, shortness of breath, or similar symptoms; discontinue use immediately and call a health care professional. Store in a cool dry place. Do not expose to excessive heat and moisture. KEEP OUT OF REACH OF CHILDREN. CONTAINS CAFFEINE.

References
Kreider RB, Kalman DS, Antonio J, et al. International Society of Sports Nutrition position stand: safety and efficacy of creatine supplementation in exercise, sport, and medicine. J Int Soc Sports Nutr. 2017;14:18. Published 2017 Jun 13. doi:10.1186/s12970-017-0173-z
https://www.ncbi.nlm.nih.gov/pmc/articles/PMC5469049/
Kalhan SC, Gruca L, Marczewski S, Bennett C, Kummitha C. Whole body creatine and protein kinetics in healthy men and women: effects of creatine and amino acid supplementation. Amino Acids. 2015;48(3):677-687.
https://www.ncbi.nlm.nih.gov/pmc/articles/PMC4754151/
Shah FA, Singamsetty S, Guo L, et al. Stimulation of the endogenous incretin glucose-dependent insulinotropic peptide by enteral dextrose improves glucose homeostasis and inflammation in murine endotoxemia. Transl Res. 2017;193:1-12.
https://www.ncbi.nlm.nih.gov/pmc/articles/PMC5826869/
Spriet LL. Exercise and sport performance with low doses of caffeine. Sports Med. 2014;44 Suppl 2(Suppl 2):S175-84.
https://www.ncbi.nlm.nih.gov/pmc/articles/PMC4213371/
Yang G, Wang Y, Tian J, Liu JP. Huperzine A for Alzheimer's disease: a systematic review and meta-analysis of randomized clinical trials. PLoS One. 2013;8(9):e74916. Published 2013 Sep 23. doi:10.1371/journal.pone.0074916
https://www.ncbi.nlm.nih.gov/pmc/articles/PMC3781107/
Malkova L, Kozikowski AP, Gale K. The effects of huperzine A and IDRA 21 on visual recognition memory in young macaques. Neuropharmacology. 2010;60(7-8):1262-8.
https://www.ncbi.nlm.nih.gov/pmc/articles/PMC3073152/
Kuhman DJ, Joyner KJ, Bloomer RJ. Cognitive Performance and Mood Following Ingestion of a Theacrine-Containing Dietary Supplement, Caffeine, or Placebo by Young Men and Women. Nutrients. 2015;7(11):9618-32. Published 2015 Nov 19. doi:10.3390/nu7115484
https://www.ncbi.nlm.nih.gov/pmc/articles/PMC4663612/