Warning: This product is not currently available at any store.
Click the button above and PricePlow will email you when the first store has it in stock!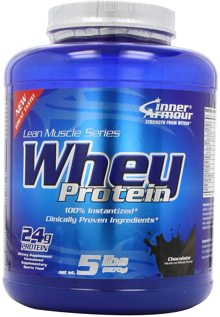 Inner Armour Lean Muscle Whey
Swipe left/right to reveal product information
Inner Armour Whey Protein is an advanced clinically formulated whey protein. This formula makes it the perfect addition to your diet to help include muscle-building proteins, satisfy cravings, increase energy levels and maintain overall health. For maximum effectiveness, we've enhanced this revolutionary formula with Hydro Amino. Studies strongly suggest that the ingestion of a fast-acting protein/amino acid hydrolysate supplement can increase amino acid levels in systemic (growth). The more rapidly these amino acids rise in the blood, the greater the anabolic muscle building reaction. Hydrolysates like the ones found in Hydro Amino have been shown to be the most beneficial form for bodybuilders and athletes as they absorb the fastest and therefore create the greatest spike in plasma concentration. Lean Muscle Series, Amplified with Hydro Amino.*
LEAN MUSCLE GROWTH!
Inner Armour Whey Protein is the perfect addition to your daily nutritional regimen. Inner Armour Whey Protein is designed to boost the free lean muscle-building peptides, while reducing cravings and increasing energy levels. The addition of precision Hydro Amino whey hydrolysate with other forms of whey protein improves the available amino acid pool preserving lean muscle and supplying super anabolic protein peptides. The Whey hydrolysates in Inner Armour Whey Protein are highly digestible and well tolerated. This makes it the supplement of choice by serious athletes as well as active lifestyle individuals.*
Utilizing Hydro Amino Hydrolyzed Amino Acids
24 Grams of Highly Available Protein
Great Tasting!
Instantized to Mix Easily