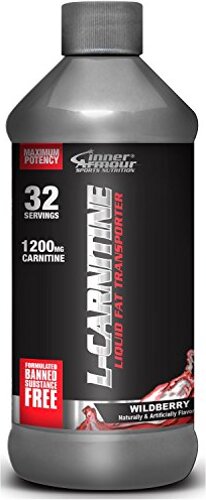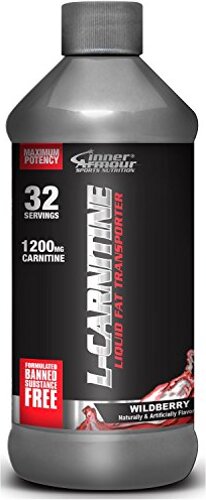 Description:
Details :
L-Carnitine Extreme, 90 Capsules
Maximum Potency. Formulated Banned Substance Free. Jitter-Free Fat Loss Activator. L-Carnitine Extreme is a scientifically advanced supplement designed to maximize fat metabolism during aerobic or anaerobic exercise. L-Carnitine Extreme combines all 3 elements necessary to effectively release, transport, and ultimately burn more fat. The specific combination of pure standardized nutraceutical ingredients in L-Carnitine Extreme maximized and improves mental focus. L-Carnitine Extreme gives you a smooth, long-lasting energy without the associated uncomfortable "jitters." Enhanced with ingredients shown to maximize fat loss. Ingredients address all stages of the fat loss process. Multi-staged ingredients shown to release fat, transport fat, and burn fat.
Manufacturer :
Inner Armour
Ingredients :
Capsule (Gelatin, Titanium Dioxide, FD&C Blue #1), Stearic Acid, Magnesium Stearate, Silica.
Extended Size Details :
90 Capsules
Directions :
Take 3 capsules approximately 30 minutes prior to your workout with 8-12 oz. of water. On non-workout days, take 3 capsules in the morning. During your workout, be sure to drink adequate water and maintain an elevated heart rate to promote fat loss. DO NOT EXCEED 6 CAPSULS PER DAY. DO NOT TAKE IN THE EVENING.
Warnings :
Allergen Information: This Product Was Made In A Facility That Also Processes Egg, Soy, Tree Nut, Fish, Crustaceans/shellfish, And Wheat Products. Warning: Consult Your Healthcare Professional Prior To Use If You Have Or Suspect A Medical Condition, Are Taking Prescription Drugs, Or Are Pregnant Or Lactating. Keep Out Of Reach Of Children. Protect From Heat, Light, And Moisture. Do Not Purchase If Seal Is Broken.
Nutrition Facts
Serving Size : 3 Capsules
Servings Per Container : 30
Amount Per Serving
Serving
% Daily Value
Vitamin B12 (as Cyanocobalamin)
3.75 mcg
63%
Vitamin B12 (as Cyanocobalamin)
3.75 mcg
63%
Vitamin B12 (as Cyanocobalamin)
50.0 mcg
833%
Vitamin B12 (as Cyanocobalamin)
50.0 mcg
833%
Folate (as Folic Acid)
150.0 mcg
38%
Folate (as Folic Acid)
150.0 mcg
38%
Folate (as Folic Acid)
150.0 mcg
38%
Folate (as Folic Acid)
150.0 mcg
38%
Magnesium (as Magnesium Oxide)
29.7 mg
7%
Magnesium (as Magnesium Oxide)
29.7 mg
7%
Magnesium (as Magnesium Oxide)
29.7 mg
7%
Magnesium (as Magnesium Oxide)
29.7 mg
7%
Potassium (as Potassium Gluconate)
4.9 mg
1%
Potassium (as Potassium Gluconate)
4.9 mg
1%
Potassium (as Potassium Gluconate)
4.9 mg
1%
Potassium (as Potassium Gluconate)
4.9 mg
1%
Guarana Seed Extract
250.0 mg
-
Guarana Seed Extract
250.0 mg
-
Green Tea Leaf Extract
250.0 mg
-
Green Tea Leaf Extract
250.0 mg
-
Green Tea Leaf Extract
250.0 mg
-
Green Tea Leaf Extract
250.0 mg
-
Vitamin B6 (as Pyridoxine HCl)
10.0 mg
500%
Vitamin B6 (as Pyridoxine HCl)
10.0 mg
500%
Guarana Seed Extract (22% Caffeine)
250.0 mg
-
Guarana Seed Extract (22% Caffeine)
250.0 mg
-
Rhodiola Rosea Root Extract
200.0 mg
-
Rhodiola Rosea Root Extract
200.0 mg
-
Rhodiola Rosea Root Extract
200.0 mg
-
Rhodiola Rosea Root Extract
200.0 mg
-
Vitamin B6 (as pyridoxine HCI)
3.0 mg
150%
Vitamin B6 (as pyridoxine HCI)
3.0 mg
150%
Dual Action Carnitine Blend:
1000.0 mg
-
Dual Action Carnitine Blend:
1000.0 mg
-
Fat Metabolizing Blend:
100.0 mg
-
Fat Metabolizing Blend:
100.0 mg
-
Krebs Cycle Intermediates Blend:
100.0 mg
-
Krebs Cycle Intermediates Blend:
100.0 mg
-
Carnitine Stack
1000.0 mg
-
Carnitine Stack
1000.0 mg
-
Metabolizing Stack
100.0 mg
-
Metabolizing Stack
100.0 mg
-
Krebs Cycle Intermediates Stack
100.0 mg
-
Krebs Cycle Intermediates Stack
100.0 mg
-
Proprietary Blends
Dual Action Carnitine Blend:
L-Carnitine tartrate and acetyl-L carnitine
Dual Action Carnitine Blend:
L-Carnitine tartrate and acetyl-L carnitine
Fat Metabolizing Blend:
Choline bitartrate, DL-methionine, inositol
Fat Metabolizing Blend:
Choline bitartrate, DL-methionine, inositol
Krebs Cycle Intermediates Blend:
Malic acid, citric acid, fumaric acid, alpha-ketoglutaric acid, succinic acid
Krebs Cycle Intermediates Blend:
Malic acid, citric acid, fumaric acid, alpha-ketoglutaric acid, succinic acid
Carnitine Stack
L-Carnitine Tartrate, Acetyl-L-Carnitine (as HCl)
Carnitine Stack
L-Carnitine Tartrate, Acetyl-L-Carnitine (as HCl)
Metabolizing Stack
Choline Bitartrate, DL-Methionine, Inositol
Metabolizing Stack
Choline Bitartrate, DL-Methionine, Inositol
Krebs Cycle Intermediates Stack
Malic Acid, Citric Acid, Alpha-Ketoglutaric Acid, Succinic Acid
Krebs Cycle Intermediates Stack
Malic Acid, Citric Acid, Alpha-Ketoglutaric Acid, Succinic Acid