Quick Links to Our Prices Price History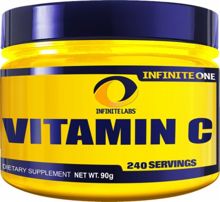 Vitamin C:is a water–soluble essential vitamin that is capable of being both an antioxidant and pro-oxidant dependingon the body's requirements. Vitamin C is a multifaceted vitamin that plays key roles in many natural functions.*

Vitamins and minerals are extremely important to ensure the success of almost every natural function of the body.Vitamins can be found in many foods, but the bioavailability may vary.* If you are worried about not getting enoughVitamin C to help your body run efficiently…being overly stimulated…
DONT WORRY BECAUSE
INFINITE ONE
IS HERE TO HELP!
With Infinite ONE, you now have the ability to add Vitamin C to any existing supplement or even make yourown vitamin complex product.*

Stacking Infinite ONE
The Basics:
Vitamin B
Green Tea Extract
Electrolyte Complex
Add To:
Any supplement or favorite drink that does not already contain the recommended dosage of Vitamin C.
Remember that all Infinite ONE products have a recommended dosage that should not be exceededwhen mixing with other supplements or making your own.*
NO FILLERS. NO FLAVORING.
KNOW EXACTLY WHAT YOU'RE GETTING.
IT'S TIME TO EVOLVE