Quick Links to Best Prices Price History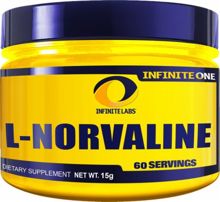 Infinite Labs L-Norvaline
L-Norvaline:is a form of the branched chain amino acid known as Valine, and while showing some of the nutritional benefitsof Valine, L-Norvaline has also been suggested to help support circulation and cardiovascular efficiency.*

During exercise, it is important to maximize blood flow so that nutrient-rich blood flows to the active muscletissues. When there isn't enough blood flow to specific areas, you will feel it in the form of fatigue and musclefailure.* If one of your pre workout concerns is blood flow…
DONT WORRY BECAUSE
INFINITE ONE
IS HERE TO HELP!
With Infinite ONE, you now have the ability to add L-Norvaline to any existing supplement or evenmake your own pump product.*

Stacking Infinite ONE
The Basics:
Add To:
Pre workout that does not contain L-Norvaline to help support general blood flow.*
Infinite Labs Infinite Force to support blood flow during exercise.*
Remember that all Infinite ONE products have a recommended dosage that should not be exceededwhen mixing with other supplements or making your own.*
NO FILLERS. NO FLAVORING.
KNOW EXACTLY WHAT YOU'RE GETTING.
IT'S TIME TO EVOLVE