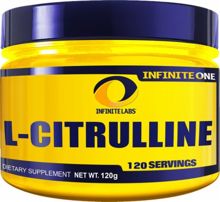 Infinite Labs L-Citrulline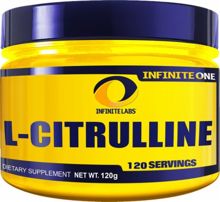 Infinite Labs L-Citrulline
L- Citrulline: is a nonessential amino acid that supports arginine contentin the body, which may support overall performance during exercise. L-Citrulline is a non-protein amino acid commonly found in watermelon that has also been suggestedto help support cardiovascular health when taken regularly.*

To get the most out of your exercises, it is important to ensure that your muscle tissue is getting enough oxygenated blood before, during and after each rep. After each exercise,you should be able to feel the pump in the exercised muscle group*, but if you can't…
DONT WORRY BECAUSE
INFINITE ONE
IS HERE TO HELP!
With Infinite ONE, you now have the ability to add L-Citrulline to any existing supplement or evenmake your own pump product.*

Stacking Infinite ONE
The Basics:
Add To:
Coffee
Infinite Labs BCAA to assist in the transportation
of anti-catabolics during exercise*
Remember that all Infinite ONE products have a recommended dosage that should not be exceededwhen mixing with other supplements or making your own.*
NO FILLERS. NO FLAVORING.
KNOW EXACTLY WHAT YOU'RE GETTING.
IT'S TIME TO EVOLVE