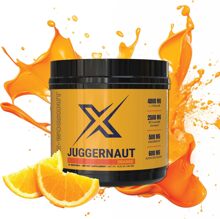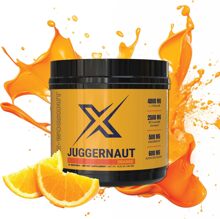 Juggernaut is The Ultimate Pre-Workout Experience!
Juggernaut is an explosive pre-workout supplement engineered for any athlete, especially the bodybuilder, striving to build muscle. With a state of the art plasma expander found only in Juggernaut, this supplement stimulates muscle fiber growth, provides for explosive power, and reduces fatigue, all while providing you with intense mental focus. This unstoppable formula provides the highest yielding glycerol load for the most insane muscle pumps, explosive energy, and greater endurance.Juggernaut is equipped with the one-of-akind Glyco-Core Plasma Expander. This plasma expander prevents dehydration, increases endurance, prevents fatigue, and is the perfect compliment to the Hypertrophic Myovascular Expansion Complex, or H.M.E.C.
Glyco-Core supplies the highest yielding glycerol load available on the market today. You can be con dent that you are fueling your body with a superior supplement designed to deliver the nutrients necessary for in nite strength and endurance. Maximize the effectiveness of your supplementation and your training with Juggernaut… the inexorable force in pre-workout nutrition!
Juggernaut is scientifically engineered to…
• Increase Lean Mass
• Stimulate Muscle Fiber Growth
• Provide Explosive Power
• Prolong Endurance
• Enhance Mental Focus
• Significantly Reduce Fatigue

Supplement Facts
Serving Size: 1 scoop (20 g)
Servings Per Container: 40
Amount Per Serving
Protein - 3g
Vitamin C - 500 mg
Vitamin E - 200 IU
Vitamin B12 - 75 mcg
Folic Acid - 200 mcg
Magnesium (Gluconate, Phosphate) - 10 mg
Chromium (Polynicotinate) - 50 mcg
Sodium (Chloride) - 49 mg
Potassium (Potassium Citrate) - 58 mg
Caffeine - 200 mg
Juggernaut Proprietary Blend - 17,970 mg
Intense Nitric Oxide (NO) Initiating Complex - 1,300 mg
Arginine blend (arginine HCL, arginine pyroglutamate, di-arginine
malate, arginine AKG), citrulline blend (citrulline, citrulline malate),
guanidino propionic acid (GuaniPro), norvaline, B12
(methylcobalamin), folic acid
Hypertrophic Myovascular Expansion Complex - 7,500 mg
ProGrow Whey Complex, (whey protein isolate, whey protein
hydrolysate), Creatine Myo-Matrix (dicreatine malate, Creatine
MagnaPower magnesium creatine chelate), taurine, Glyco-Core
Plasma Expander (glycerol), carnitine matrix (L-carnitine L-tartrate,
ArginoCarn acetyl L-carnitine arginate Di-HCl)
Creatine Transport Upregulating Complex - 720 mg
Meta-Fuse Glucose Polymer (maltodextrin, waxy maize),
ChromeMate (chromium polynicotinate), cinnamon extract
ORAC-Blast Antioxidant Complex - 775 mg
Vitamin C, vitamin E, acai extract, pomegranate extract
Fatigue Arrest Complex - 500 mg
Beta alanine, caffeine, alpha-glycerylphosphorylcholine, bacopa
monnieri, vinpocetine
Electrolyte Replacement Complex - 200 mg
Potassium citrate, magnesium phosphate, magnesium gluconate
Other Ingredients:
Natural and Artificial Flavors, Silica, Tricalcium Phosphate, Citric Acid, Malic Acid, Lecithin, Sucralose, Acesulfame Potassium and
FD&C Yellow 6 Contains milk and soy. Creatine MagnaPower

Directions
On workout days
take 1-2 scoops of Juggernaut with 4-8 oz. of cold water 30-45 minutes before workout. (Use 4 oz. of water per 1 scoop of Juggernaut.)
On non-workout days
take 1 scoop of Juggernaut with 4 oz. of cold water.
For best results take Juggernaut on an empty stomach. To avoid sleeplessness do not take within 4 hours of bedtime. Do not exceed one serving more often than every 3-4 hours. Limit use to no more than 2 servings in a 24-hour period. To be used as part of a physical conditioning program.