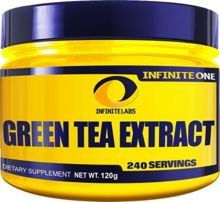 Infinite Labs Green Tea Extract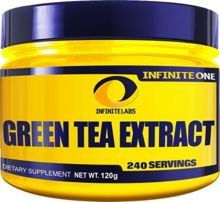 Infinite Labs Green Tea Extract
Green Tea Extract: is suggested to be one of the most versatile nutritional supplements available. With a huge antioxidant complex and natural ability to support your calorie burning rate, Green Tea Extract may assist your body's natural ability to both utilize and burn fat.*

Your body's metabolism can be supported in a number of ways, but very few of them may supply the levels ofanti-oxidant support like Infinite ONE Green Tea Extract. If you are having trouble sustaining a constant metabolism...*
DONT WORRY BECAUSE
INFINITE ONE
IS HERE TO HELP!
With Infinite ONE, you now have the ability to add Green Tea Extract to any existing supplement or even make your own weight managing supplement.*

Stacking Infinite ONE
The Basics:
Add To:
Your pre workout protein shake with AAKG to make a custom pre workout protein shake.
Add to your morning beverage to jumpstart your metabolism.*
Remember that all Infinite ONE products have a recommended dosage that should not be exceededwhen mixing with other supplements or making your own.*
NO FILLERS. NO FLAVORING.
KNOW EXACTLY WHAT YOU'RE GETTING.
IT'S TIME TO EVOLVE