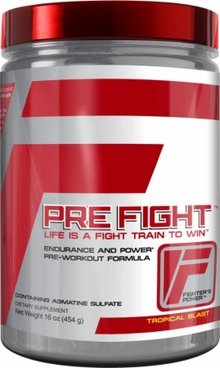 Infinite Labs Fighter's Power PRE FIGHT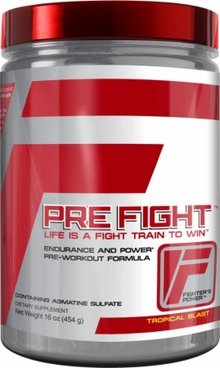 Infinite Labs Fighter's Power PRE FIGHT
Pre Fight
Life Is A Fight. Train To Win.
Endurance & Power
---
Pre-Workout*
---
Pre Fights's Benefits May Include:
EXPLOSIVE POWER*
ATP RESYNTHESIS*
ELECTROLYTE SUPPORT*
N.O. POTENTIATORS*
LACTIC ACID BUFFERS*
ENERGY FOCUS HYDRATION*
Pre Fight
Whether the challenge is in the cage or overcoming the demands of everyday life, we all have one thing in common: We're fighters.* We fight to stay ahead.* We fight to accomplish.* We fight to succeed.* But above everything else, we fight to win.* Each day, we are faced with a variety of challenges that test our strength, our ability and our drive that undeniably sculpt the foundation of who we are.*
Multiphase Energy Blend
Pre Fight's Multiphase Energy Blend contains a precise arrangement of monosaccharides (simple carbohydrates) that are quickly absorbed into the bloodstream to be utilized as an immediate energy source.* This blend also features the low glycemic effects of Palatinose, a disaccharide (complex carbohydrate) and medium chain triglycerides that must go through the digestion process prior to being used as an energy source; this ultimately ensures a longer lasting energy to keep you going strong throughout your entire workout.*
Performance Blend
The Performance Blend in Pre Fight offers a superlative creatine complex that features two clinically researched forms of creatine: Creatine MagnaPower and CreaPure believed to support ATP resynthesis during intense exercise.* Additional benefits associated with a solid creatine profile may include: improved muscular torque (power), the ability to buffer lactic acid accumulation during exercise and the promotion of cellular hydration believed to support protein synthesis.* In combination with Carnosyn, a patented version of beta-alanine, additional synergistic effects can be experienced including lean mass gains and increased strength believed to improve overall body composition.* The inclusion of Agmatine Sulfate is designed to help support improved muscle pumps and nutrient partitioning.* With the addition of the easily-absorbed dipeptide ingredient Sustamine, the combined amino acids L-Glutamine and L-Alanine help to replenish and rehydrate the muscles to help you outlast even your toughest competition.*
Electrolyte Blend
The Electrolyte Blend in Pre Fight features unique ingredients including Coconut Water Concentrate and a precise ratio of sodium and potassium to ensure the muscles are hydrated throughout the entire workout.* With the inclusion of ingredients such as Sodium Citrate and Potassium Amino Acid Complex, Pre Fight helps to promote and maintain the body's water balance to help you stay hydrated throughout the entire workout.*
There is always a cost to every victory.* Overcoming any obstacle requires the proper training tools and taking the necessary preliminary steps to ensure you are incontrovertibly ready for combat.* PRE FIGHT brought to you by Fighter's Power provides all the essential components to fully prepare you for any type of battle.*
---
Life is a Fight, Train to Win.*
References
Beck TW, Housh TJ, Johnson GO, Coburn JW, Malek MH, Cramer JT (2007). Effects of a drink containing creatine, amino acids, and protein combined with ten weeks of resistance training on body composition, strength, and anaerobic performance. J Strength Cond Res. 21(1):100-4.
Chilibeck PD, Chrusch MJ, Chad KE, Shawn Davison K, Burke DG (2005). Creatine monohydrate and resistance training increase bone mineral content and density in older men. J Nutr Health Aging. 9(5):352-3.
Clark N. (1990). Sports nutrition guidebook: Eating to fuel your active lifestyle. Leisure Press, Illinois.
Demady DR, Jianmongkol S, Vuletich JL, Bender AT, & Osawa Y. (2001). Agmatine enhances the NADPH oxidase activity of neuronal NO synthase and leads to oxidative inactivation of the enzyme. Molecular Pharmacology. 59(1), 24-9.
Harris RC, Tallon MJ, Dunnett M, Boobis L, Coakley J, Kim HJ, Fallowfield JL, Hill CA et al. (2006). The absorption of orally supplied β-alanine and its effect on muscle carnosine synthesis in human vastus lateralis. Amino Acids. 30 (3): 279–289.
Hoffman JR, Ratamess NA, Kang J, Rashti SL, Kelly N, Gonzalez AM, Stec AM, Anderson S, Bailey BL, Yamamoto LM, Hom LL, Kupchak BR, Faigenbaum AD & Maresh CM (2010). Examination of the efficacy of acute L-alanyl-L-glutamine ingestion during hydration stress in endurance exercise. J Int Soc Sports Nutr. 3; 7:8.