Warning: This product is not currently available at any store.
Click the button above and PricePlow will email you when the first store has it in stock!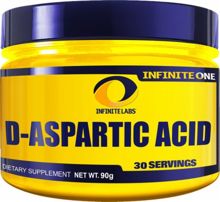 Infinite Labs D-Aspartic Acid
D-Aspartic Acid: is one of two forms of the amino acid, aspartic acid.It is described as a neurotransmitter and a stimulant that acts as a regulatorof testosterone synthesis.*

We rely on many different natural functions to ensure we achieve our fitness goals.As we get older, some of those functions begin to become less effective. To ensurethat our bodies have the ability to utilize their resources as effectively as possible,we need to make sure that we have adequate hormones racing to our rescue for everythingfrom energy to recovery.* If you are a male over the age of 25, and you just don't feellike you did years back…
DONT WORRY BECAUSE
INFINITE ONE
IS HERE TO HELP!
With Infinite ONE, you now have the ability to add D-Aspartic Acid to any existing supplementor even make your own natural test boosting product.*

Stacking Infinite ONE
The Basics:
L-Isoleucine
Vitamin C
L-Valine
Add To:
JuggernautHP by Infinite Labs for that little extra motivation*
Your morning Infinite Labs protein shake to get your day started*
Remember that all Infinite ONE products have a recommended dosage that should not be exceededwhen mixing with other supplements or making your own.*
NO FILLERS. NO FLAVORING.
KNOW EXACTLY WHAT YOU'RE GETTING.
IT'S TIME TO EVOLVE