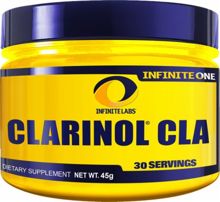 Infinite Labs Clarinol CLA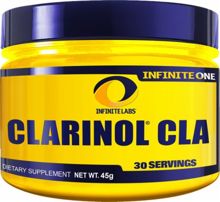 Infinite Labs Clarinol CLA
Clarinol CLA: works by assisting in the reduction of body fat while further assisting in the prevention of fat buildup around the cells.CLA is found in foods, but diet alone typically does not provide enough CLA to experience any health benefits. Moreover,physical activity can help stimulate the movement of fat, thus supporting the effectiveness of CLA when used as a dietarysupplement.*

Not all fats are bad. In fact, there are some that can help your body utilize and reduce stored fat cells. The most commonplaces for your body to store fat is in your lower abdomen and the best way to target fat in that area is to use its worst enemy: healthy fats.* If you do not have any healthy fats in your diet…
DONT WORRY BECAUSE
INFINITE ONE
IS HERE TO HELP!
With Infinite ONE, you now have the ability to add Vitamin C to any existing supplement or even make your own vitamin complex product.*

Stacking Infinite ONE
The Basics:
Tyrosine
Green Tea Extract
Add To:
Every serving of your Infinite Labs protein to help protect against catabolism and fat storage.*
Your post workout to support your body utilizing fat cells during the recovery process.*
Remember that all Infinite ONE products have a recommended dosage that should not be exceededwhen mixing with other supplements or making your own.*
NO FILLERS. NO FLAVORING.
KNOW EXACTLY WHAT YOU'RE GETTING.
IT'S TIME TO EVOLVE