Quick Links to Best Prices
240 Capsules
(Buy 1 Get 1 FREE) Price History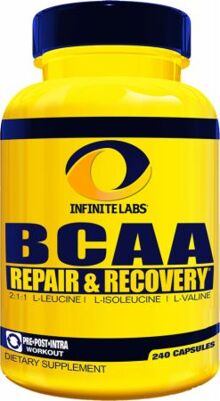 BCAAs are Effective in:
Reducing post exercise fatigue*
Decreasing muscle protein breakdown*
Increasing muscle protein synthesis*
Enhancing endurance*
Convert Your Strength Into Infinite Power
BCAAs are the essential aminos: leucine, isoleucine, and valine. The combination of these amino acids makes up approximately one third of skeletal muscle tissue in the body. As the building blocks of protein, they play a major role in the process of protein synthesis. As food goes through the digestion process, the protein that the food contains is broken down into individual and short chains of amino acids; they are then minute enough to be absorbed into the bloodstream.
After a training session, the body is in a catabolic state – breaking down of muscle tissue – with a deficit in protein synthesis. This is due to the MAPK signaling pathway that is activated post exercise, which is the body's own way of signaling muscle growth. The purpose of this pathway is to support protein synthesis, however it is not as effective as when combined with the BCAA signaling cascade. These two pathways act independently from one another, so when adequate amounts of BCAAs are consumed after a workout, the body enters a greater state of hypertrophy with a positive amount of protein synthesis.*
Also Available in Powder! ››