Quick Links to Best Prices Price History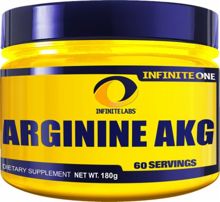 Infinite Labs Arginine AKG
Arginine AKG: Arginine Alpha-Ketoglutarate) is an amino acid that plays a rolein two regulatory cycles (urea and nitric oxide) and can be converted into bioactivemolecules such as creatine and agmatine to regulate the body. It is suggested to be oneof the most versatile amino acids in the human body.*

One of the most important things to consider when you're working out is how much bloodis circulating to your muscles so that you are able to perform the required movement.*If you are having trouble getting the most out of every rep in each set...*
DONT WORRY BECAUSE
INFINITE ONE
IS HERE TO HELP!
With Infinite ONE, you now have the ability to add AAKG to any existing supplement or even make yourown pre workout supplement.*

Stacking Infinite ONE
The Basics:
Carnosyn Beta Alanine
Norvaline
Add To:
Infinite Force by Infinite Labs for an amazing Intra-Workout.*
Remember that all Infinite ONE products have a recommended dosage that should not be exceededwhen mixing with other supplements or making your own.*
NO FILLERS. NO FLAVORING.
KNOW EXACTLY WHAT YOU'RE GETTING.
IT'S TIME TO EVOLVE