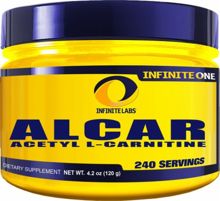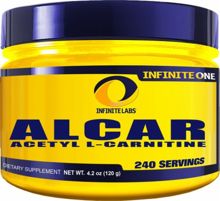 A PERSONALIZED APPROACH TO SPORTS NUTRITION.
ALCAR: Acetyl-L-Carnitine (ALCAR) is an amino acid that has been shown to support the mitochondria's potential to burn fat. Moreover, due to its suggested ability to support alertness and neuron activity, Alcar has also been used as a cognitive-support supplement.*
There are various forms of carnitine supplementation, and Alcar is not to be confused with these other versions of the compound, L-Carnitine. For example, L-Carnitine Tartrate (LCLT) has been associated with physical performance and power output support, while Glycine Propionyl L-Carnitine (GPLC) has been shown to support blood flow.*
Individuals can supplement with Alcar daily to support weight management, cognitive function and overall feelings of alertness. The typical dose for Alcar can range from 500mg – 2,500mg per day.*
Infinite ONE Alcar can be combined with caffeine to further support Acetyl-L-Carnitine production within the body.*
Don't worry because Infinite ONE is here to help!
With Infinite ONE, you now have the ability to add ALCAR to any existing supplement or even make your own pre workout supplement.*
Remember that all Infinite ONE products have a recommended dosage that should not be exceeded when mixing with other supplements or making your own.*
NO FILLERS. NO FLAVORING.
KNOW EXACTLY WHAT YOU'RE GETTING.