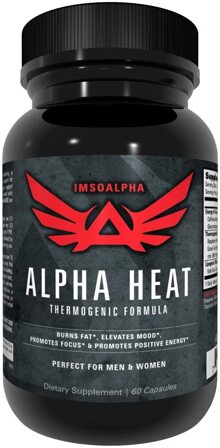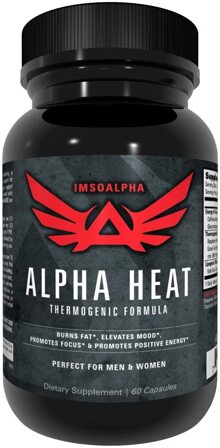 ImSoAlpha iX3 Alpha Heat
Give your weight loss efforts a kick and feel good about it by making iX3 Alpha Heat supplements a part of your exercise regimes. ImSoAlpha iX3 Alpha Heat may help promote:
Fat Loss*
Elevated Mood*
Enhanced Focus*
Positive Energy*
Heat comes jam-packed with the following ingredients:
4 AMINO 2 METHYLPENTANE CITRATE
This ingredient improves the body's energy and conserves it.
PHENYLETHYLAMINE HCL
Phenylethylamine is a chemical that is related to amphetamines and raises the body's glucose levels and blood pressure thereby giving you the kick you need to jumpstart your weight loss regime. It is believed that the chemical also releases b-endrophin, an opioid peptide that is also known to elevate mood. Phenylethylamine HCL or PEA is known for a host of properties all of which facilitate weight loss and combat depression. Not only does it improve your mood, it also occurs naturally within the human nervous system. In addition, it helps the body release dopamine and norepineohrine, chemicals that are known to make you more alert and attentive.
PICAMILON
Picamilon is an ingredient that is used to improve mood and prevent anxiety. It is said that a healthy dose of the drug also improves your cognitive functions that are related to focus, memory, and mental energy.
HUPERZINE A
Huperzine A is a chemical that is extracted from Chinese club moss, a plant that has been long used to reduce inflammation, increase alertness and improve memory. This is also why the substance is used for treating Alzheimer's disease.
HORDENINE HCI
This is a naturally produced alkaloid that is found in plants like barley and is known to be chemically similar to phenylethylamine. Hordenine, in particular, is known to increase energy levels and enhance your mood. In addition, it also boosts your concentration. Since it is also known to boost the body's metabolism, it is a very desirable supplement for people who lift weights or those who follow intense workout regimes.
CAFFEINE ANHYDROUS
This ingredient can give you more of a mental kick than a regular cup of coffee. Simply put, anhydrous caffeine is a dehydrated form of regular caffeine which also makes it more potent. Caffeine is a known mental stimulant. Research shows that the ingredient is beneficial for people who go through exhaustive exercise regimes.
ADENOSINE MONOPHOSPHATE HCI
Adenosine Monophosphate or AMP is produced naturally in the body as part of the metabolic process. In addition, AMP is also considered to combat low energy production that is caused by mitochondrial dysfunction. Plus it facilitates certain enzyme reactions that are necessary for the body to metabolize fat and carbohydrates. As an ingredient, it significantly increases your body's energy.
METHYL-SYNEPHRINE
Obtained from bitter oranhe HCL Methyl-Synephrine is an active alkaloid that triggers the activation of beta 3 receptors. It is often used in weight loss supplements.
DENDROBIUM
Dendrobium is a part of the orchid plant family and is native to China. It has also been used in traditional Chinese medicines to treat a variety of ailments such as indigestion or appetite loss. The ingredient contains several chemicals which are known to increase blood sugar, reduce pain, lower blood pressure and stimulate mood.
ALPHA-YOHIMBE
Alpha Yohimbe or Alpha Y is an analogue of yohimbe and is known to facilitate the excretion of dopamine, a chemical that enhances your mood.