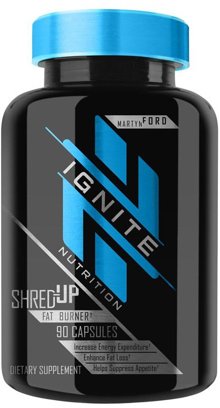 Ignite Nutrition Shred-Up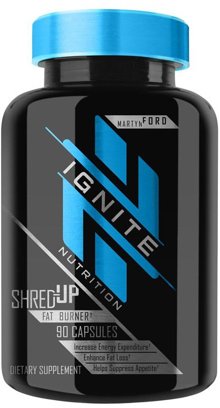 Ignite Nutrition Shred-Up
Destroy Your Off-Season Body Fat!
You're allowed to loosen things up and enjoy yourself a little bit, right? To a point, sure! However, now your off-season is winding down and you need to get back to a level of fitness which allows you to perform at the highest levels of your sport. You know dieting and portion control is difficult. You'll experience a lack energy and likely have to face hunger pangs. The deeper your diet goes, you might even become a bit foggy-headed, but you're dedicated to the results and you know there's no easy way out.
The good news is that this doesn't have to be achieved alone and with extreme suffering. What you need to help make it a little easier is a high-quality fat burner that contains proven ingredients – at effective doses. Introducing one of the best fat burners on the market, Shred-Up by Ignite Nutrition!
WHAT MAKES IT SO GOOD?
Shred-Up contains a powerful combination of effective ingredients that cover the needs of your body while getting back into top-performing shape. Shred-Up will give you the energy, focus, appetite control as you reprogram your body to metabolize calories more efficiently.
Give yourself the energy you need to push through your workouts and your day, with our advanced Fat Burner Blend consisting of a combination of Caffeine Anhydrous, N-Methyl Tyramine Hydrochloride, Guarana Seed Extract, and Infinergy Dicaffeine Malate, providing 305 mg of total caffeine for smooth, crash-free, extended energy!
Thermogenesis is the production of energy by the body, a process that burns extra calories. This is one of the fat burning benefits of Caffeine, so we've made the most of this effect by including several other thermogenic ingredients to support Caffeine, like Cayenne Pepper Fruit Extract, which contains the active ingredient Capsicum, and Paradoxine Grains of Paradise which directly targets brown adipose tissue.
Appetite and craving control is critical to the fat loss process. Shred-Up has you covered with Hoodia Gordonii Extract, a potent natural appetite suppressant that's been successfully used for decades to help stop hunger dead in its tracks.
We've also included Green Tea to increase levels of the hormone that tells your body to burn fat, and Green Coffee Bean which has several fat-loss benefits because due namely to the active ingredient, Chlorogenic Acid.
You might think that's the end of the formula but there's even more! We've included Dandelion, an herbal diuretic that helps your body rid itself of excess water retention, and Chromium which helps control insulin response along with stabilizing blood sugar levels. Finally, there's N-Acetyl L-Carnitine HCl, to help transport stored fat to be burned by the body as energy.
Now that's a serious fat burner designed to get fast, effective results!
Note: Manufacturers continually change product specifications. While we try our best to keep product descriptions up to date, they do not necessarily reflect the latest information available from the manufacturer. We are not responsible for incorrect or outdated product descriptions and/or images.