Quick Links to Best Prices Price History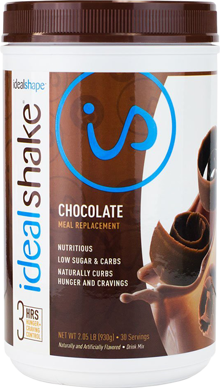 This Shake Is
ideal
Advanced Diet and Hunger Control
Delicious, Smooth, Creamy Texture
Low In Calories and Nutrient Rich
Perfect For Any Lifestyle
All-Natural Hunger Fighting Blend
If you can't control your hunger and limit caloric intake, you can't lose weight! You have to be able to accomplish the adage of more calories out than in. It's said that 90% of weight loss is centered around diet! There are a number of things you can do to help control appetite, including consuming an adequate amount of lean protein[1] and fiber[2] while gaining control of your glycemic response to meals.[3]
With IdealShake, the solution for better control and a healthier lifestyle is right in your hands! This delicious meal replacement shake contains ingredients designed to help you feel satisfied and in control. Each creamy serving provides daily nourishment with all-whey protein, fiber, Slendesta Hunger-Blocker, and 22 vitamins and minerals.
IdealShake tastes so rich and creamy that you'll feel like you're cheating on your diet, but each serving contains only 100 calories and 2 grams (or less) of sugar! You won't feel deprived and it'll be easier to pass on the unhealthy junk food. Gain control of your diet and actually enjoy your weight loss journey with the help of nutritionally advanced IdealShake!
References [+]
References [-]
[1] Lejeune MP, et al. Additional Protein Intake Limits Weight Regain After Weight Loss in Humans. British Journal of Nutrition. 93:2. (2005): 281-289.
[2] Bodinham CL, et al. Acute Ingestion of Resistance Starch Reduces Food Intake in Healthy Adults. British Journal of Nutrition. 103:6. (2010): 917-922.
[3] Douglas Laboratories. Gly-Sea-Max: Helps Moderate Normal Glycemic Response After Meals. Pittsburgh, PA. 2006.