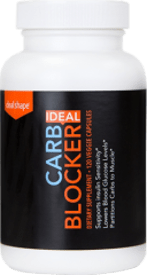 IdealShape Ideal Carb Blocker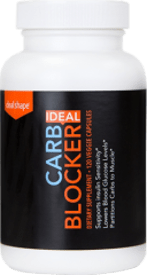 IdealShape Ideal Carb Blocker
BLOCK CARBS FROM CONVERTING TO FAT STORES
BLOCK CARBOHYDRATES AND EXCESS SUGARS
PROMOTE WEIGHT LOSS AND FAT BURNING
INCREASE ENERGY AND ANTIOXIDANT LEVELS
STOP COUNTING CALORIES AND SEE RESULTS
GAIN CONTROL OF YOUR WEIGHT
If you think excess carbohydrates may be the culprit behind your weight gain and lack of weight loss results, you might want to consider a carb blocker rather than a fat burner. Ideal Carb Blocker is a safe, natural dietary supplement that blocks carbohydrate absorption, turning carbs into fuel – not fat! Ideal Carb Blocker makes dieting and exercise more effective and stubborn belly fat will finally begin to melt away. Ideal Carb Blocker improves insulin sensitivity to block carbohydrate intake and help you gain control of your weight.
The main ingredient in Ideal Carb Blocker is fenugreek, a natural herb that improves insulin sensitivity and prevents carbohydrate absorption due to its high content of galactomannan, a soluble fiber.[1] This combines with alpha lipoic acid, a fat burning antioxidant, for a significant reduction in body weight and a smaller waist size.[2]
If you've tried everything to lose weight and still aren't seeing results, it might not be your fault. Insulin just may be the culprit! Ideal Carb Blocker gets those carbs you're eating to convert to energy instead of fat, in addition to lowering cholesterol levels[3] and reducing appetite.[4] Plus, the antioxidants in Ideal Carb Blocker keep your body health and functioning at peak levels! as it ignites your body with incredible energy and heightened mood. This technology combines with adipocyte apoptosis to rev up your fat burning potential to a whole new level.
Try Ideal Carb Blocker 100% risk free and make it easy to burn fat, increase metabolism, and see real weight loss results you'll love.
References [+]
References [-]
[1] Chevassus H, et al. A Fenugreek Seed Extract Selectively Reduces Spontaneous Fat Intake in Overweight Subjects. European Journal of Clinical Pharmacology. 66:5. (2010): 449-455.
[2] Koh EH, et al. Effects of Alpha-Lipoic Acid on Body Weight in Obese Subjects. The American Journal of Medicine. 124:1. (2011): 85e1-85e8.
[3] Kong W, et al. Berberine is a Novel Cholesterol-Lowering Drug Working Through a Unique Mechanism Distinct from Statins. Natural Medicine. (2004): 1344-1351.
[4] Kim SH, et al. Antihyperglycemic and Antihyperlipidemic Actionof Cinnamomi Cassiae (Cinnamon Bark) Extract in C57BL/Ks db/db Mice. Archives of Pharmacal Research. 33:2. (2010): 325-333.
* RESULTS MAY VARY