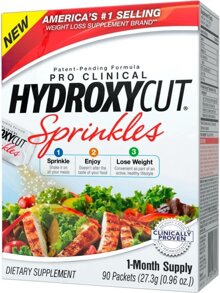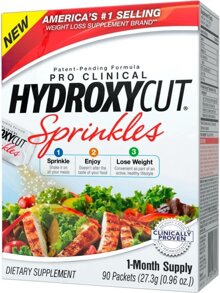 MuscleTech Hydroxycut Pro Clinical Sprinkles Product Information


Hydroxycut Sprinkles is a fun way to help you lose weight as part of your diet and exercise plan. Packed with the same clinically proven key ingredients as Hydroxycut, it contains NO calories, NO sugar and NO sodium. With Hydroxycut Sprinkles in your active lifestyle, you can achieve your weight loss goals.

Sprinkle-Shake it on all your meals

Enjoy-Doesn't alter the taste of your food

Lose Weight-Convenient as part of an active, healthy lifestyle
Convenient-Sprinkle it on your meals, does not alter the taste of food, no gritty texture or aftertaste. Effective-Clinically proven key ingredients, powerful weight loss, stimulant-free. Gluten- and lactose-free. Sodium and calorie free. The support you need to succeed-Free weight loss tops and sample meal plans, free recipes and sample exercise plans, Hydroxycut online community. What's inside! Free weight loss guide, 90 Hydroxycut Sprinkles packets, Hydroxycut Sprinkles carrying case. Fast & Effective Weight Loss key ingredients proven effective in clinical studies of 8 and 12 weeks.
Nutrition Facts

†

Serving Size 1 Packet
Servings Per Container 90
Amount Per Serving



Serving

% DV

Calories

0

-



Total Fat

0 g

0%



Cholesterol

0 mg

0%



Sodium

0 mg

0%



Total Carbohydrate

0 g

0%




Sugars

0 g

-




Calcium

50 mg

5%




Vitamin C (as Ascorbic Acid)

7 mg

12%




Pro Clinical Hydroxycut Sprinkles Blend

155 mg

-



Proprietary Blends


Pro Clinical Hydroxycut Sprinkles Blend

Lady's mantle extract (as alchemilla vulgaris)(leaf), wild olive extract(as olea europaea)(leaf), komijn extract (as cuminum cyminum)(seed), wild mint extract as mentha longifolia)(leaf)




*percent Daily Values are based on a 2,000 calorie diet.




Ingredients: Tricalcium phosphate.

*These statements have not been evaluated by the Food and Drug Administration. This product is not intended to diagnose, treat, cure or prevent any disease.

†Nutrition Facts are a simulation of the product's "Nutrition Label". For the actual Nutrition Label please refer to the product packaging.
Directions
Have 3 servings per day. Sprinkle one packet of Hydroxycut Sprinkles evenly over the surface of your breakfast, lunch and dinner, and mix if possible. Consume entire serving of Hydroxycut Sprinkles at each meal. Use while following a calorie-reduced diet and regular exercise program. Don't snack after dinner or in between meals, and remember to drink 8 to 10 glasses of water each day. Ensure you read entire label before use. For best results, use Hydroxycut Sprinkles for 8 to 12 weeks. Do not exceed 3 servings in a 24-hour period.
Warnings
Not intended for use by persons under 18. Do not use if pregnant or nursing. Discontinue use and consult a medical doctor if you have been treated for, or diagnosed with or have a family history of any medical condition, or if you are using any prescription or over-the-counter drug(s), including blood thinners. Consult a medical doctor before starting any diet or exercise program. Do not exceed recommended serving. Improper use of this product will not improve results and is not advised. Use only as directed. Do not use if packaging has been tampered with. Store in a cool, dry place (60F to 80F). Keep out of reach of children.