Warning: This product is not currently available at any store.
Click the button above and PricePlow will email you when the first store has it in stock!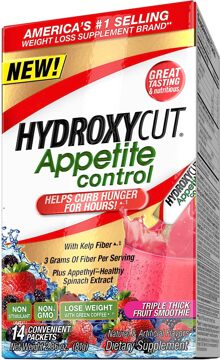 Hydroxycut Appetite Control
Hydroxycut Appetite Control Triple Thick Fruit Smoothie Mixed Berry Description
America's #1 Selling Weight Loss Supplement Brand
Great Tasting & Nutritious
Helps Curb Hunger for Hours!
With Kelp Fiber
3 Grams of Fiber Per Serving
Plus Appethyl - Healthy Spinach Extract
Non Stimulant / Non GMO / Lose Weight with Green Coffee
Emerging Science
Appetite Control Benefits From Kelp Fiber
Scientific research suggests people taking kelp fiber (sodium alginate) reduced their appetite for hours after a meal.
Lose Weight With Green Coffee
Green coffee extract promotes weight loss as seen in a 60-day study of subjects following a low-calorie diet. Subjects lost an average of approximately 10.95 lbs vs. 5.40 lbs in the placebo group. In another 8-week study, subjects using the same key ingredient lost an average of approximately 3.7 lbs vs 1.25 lbs in the placebo group. Both groups followed a calorie-reduced diet and performed moderate exercise.
All - New Innovations
Delicious & Nutritious Appetite Control
Now there's a new way to help curb your hunger for hours. It's a great-tasting and nutritious smoothie drink that features a novel kelp fiber to help control hunger. Plus, we've also added Appethyl - a patented, gluten-free and non-GMO spinach extract featuring spinach thylakoids. And for weight loss, this formula contains green coffee.
How It Works
Mix and Drink - Tastes great when mixed with cold water.
Supports Natural Satiety - Kelp fiber gently expands in the stomach to help you feel full.
Appetite Control - Helps curb hunger for hours.
Lose Weight - With the power of green coffee.
2 Ways
To make your thick and delicious Smoothie
MIX with cold water and shake vigorously
BLEND with cold water and ice
Directions


To build individual tolerance, consume a half serving of Hydroxycut Appetite Control per day for up to three days, then follow directions below. Directions for Appetite Control: For your thick and delicious smoothie mix 1 serving (1 packet) with 11 oz of cold water and drink with a meal. Directions for Weight Loss: Mix 1 serving (1 packet) with 11 oz of cold water and consume 30 minutes before your two larges meals. Do not snack between meals or before bed. Do not exceed 2 servings (2 packets) in a 24-hour period. Read the entire label before use and follow directions provided.

Please note: There is fiber in this product, so some settling or clumping may occur.
Free OfGMO.