Quick Links to Best Prices Price History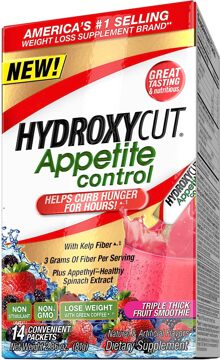 Hydroxycut Appetite Control
Hydroxycut Appetite Control Triple Thick Fruit Smoothie Mixed Berry Description
America's #1 Selling Weight Loss Supplement Brand
Great Tasting & Nutritious
Helps Curb Hunger for Hours!
With Kelp Fiber
3 Grams of Fiber Per Serving
Plus Appethyl - Healthy Spinach Extract
Non Stimulant / Non GMO / Lose Weight with Green Coffee
Emerging Science
Appetite Control Benefits From Kelp Fiber
Scientific research suggests people taking kelp fiber (sodium alginate) reduced their appetite for hours after a meal.
Lose Weight With Green Coffee
Green coffee extract promotes weight loss as seen in a 60-day study of subjects following a low-calorie diet. Subjects lost an average of approximately 10.95 lbs vs. 5.40 lbs in the placebo group. In another 8-week study, subjects using the same key ingredient lost an average of approximately 3.7 lbs vs 1.25 lbs in the placebo group. Both groups followed a calorie-reduced diet and performed moderate exercise.
All - New Innovations
Delicious & Nutritious Appetite Control
Now there's a new way to help curb your hunger for hours. It's a great-tasting and nutritious smoothie drink that features a novel kelp fiber to help control hunger. Plus, we've also added Appethyl - a patented, gluten-free and non-GMO spinach extract featuring spinach thylakoids. And for weight loss, this formula contains green coffee.
How It Works
Mix and Drink - Tastes great when mixed with cold water.
Supports Natural Satiety - Kelp fiber gently expands in the stomach to help you feel full.
Appetite Control - Helps curb hunger for hours.
Lose Weight - With the power of green coffee.
2 Ways
To make your thick and delicious Smoothie
MIX with cold water and shake vigorously
BLEND with cold water and ice
Directions


To build individual tolerance, consume a half serving of Hydroxycut Appetite Control per day for up to three days, then follow directions below. Directions for Appetite Control: For your thick and delicious smoothie mix 1 serving (1 packet) with 11 oz of cold water and drink with a meal. Directions for Weight Loss: Mix 1 serving (1 packet) with 11 oz of cold water and consume 30 minutes before your two larges meals. Do not snack between meals or before bed. Do not exceed 2 servings (2 packets) in a 24-hour period. Read the entire label before use and follow directions provided.

Please note: There is fiber in this product, so some settling or clumping may occur.
Free OfGMO.