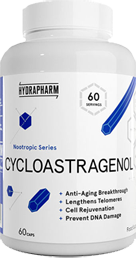 Hydrapharm Cycloastragenol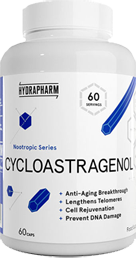 Hydrapharm Cycloastragenol
Description
Buy 2 or more bottles of Hydrapharm Cycloastragenol for only 47.58 each with free shipping!!
Anti-aging telomerase activator
GOAL: STUDY/WORK AID
Anti-aging breakthrough
Combats age-related DNA damage to telomeres
Enhance wellbeing
Better energy and mood
Increased sleep quality
WHY
Cycloastragenol is one of the most exciting ingredients when it comes to natural solutions to help combat aging. Clinical studies have shown that Cycloastragenol has the ability to combat the fraying of telomeres that causes damage to cellular DNA consistent. This damage causes DNA strands to become less functional and over time contributes to a reduced ability for humans to maintain physical and mental capacities. Cycloastragenol's ability to minimise DNA damage therefore allows users to experience a slowdown in age-related decline as well as noticeable improvements in parameters of physical and mental ability such as sleep quality and whole body rejuvenation.
WHEN
Cycloastragenol should be dosed daily all year-round on a long term basis to experience the benefits. Discontinuing usage is not recommended once a user embarks on an anti-aging regimen based around this compound.
WHO
Both men and women seeking to optimise their ability to function physically and mentally for as long as possible.
PREDATOR NUTRITION CYCLOASTRAGENOL REVIEW
At Predator Nutrition we always like to provide novel and exclusive products for our customers that are not available elsewhere. The latest product that has us excited at Predator Nutrition HQ is Hydrapharm Cycloastragenol. This ingredient typically has poor solubility and low bioavailability, leading pharmaceutical companies to limit the research and development on it and bringing it to the market for its medicinal properties. Until now.
How Does it Work?
Cycloastragenol works by inhibiting reactive oxygen species generation and attenuates endoplasmic reticulum stress (2). Reactive oxygen species can have a deleterious effect DNA and RNA and plays a negative role in the physiology of aging. Interestingly, the outer face of the rough endoplasmic reticulum is studded with ribosomes that are the sites for protein synthesis.
Cycloastragenol specifically stops the inflammatory activation of TXNIP/NLRP3. Inflammatory activation leads to mitochondrial cell death in endothelial cells, but cycloastragenol has the capacity to restore the loss of the mitochondrial membrane potential by preventing caspase-3 activity, resulting in the protection of cells from endoplasmic reticulum stress induced apoptosis. This study found cycloastragenol to be effective in regulating endothelial homeostasis by ameliorating endothelial dysfunction specifically by inhibiting inflammation and reducing cell apoptosis (1).
Cycloastragenol and Telomeres
Telomeres consist of repetitive non-coding DNA sequences located at chromosomes. They play a protective role in the chromosome ends along with shelterin complex. The shelterin complex consists of six telomere associated proteins and allows cells in the body to distinguish telomeres from DNA damage sites. Without this, unprotected teleomeres provoke a DNA damage response (3).
Telomere shortening occurs due to the end replication problem in DNA replication – the DNA strand shortens with each cell division, since the DNA polymerase can't completely replicate the whole strand. As well as this problem, reactive oxygen species and other environmental stress factors lead to telomere damage and increase erosion of the telomere.
Cycloastragenol has been shown to activate telomerease in T lymphocytes, helping to inhibit telomere shortening, proliferative potential and enhance functional response. This has made it an interesting area of research in cancer treatment, aging, psychiatric disorders such as depression, atherosclerosis, skin diseases and regenerative medicine (4, 5). Although the research on cycloastragenol is in its early days, it is being proposed as a potential therapeutic answer for anti-aging and telomerase-dependent disease treatments.
Conclusion
Cycloastragenol provides a potent antioxidant that helps to reduce inflammation. This, along with its ability to provide liver protective properties and reduce the activity of reactive oxygen species, makes it relevant to individuals who are constantly engaged in strenuous exercise.
It's ability to reduce endothelium stress and inhibit telemorase shortening has made it a potential therapeutic solution for a number of diseases such as cancer treatment and regenerative medicine.
It may be cliché, but further research in human studies is needed on cycloastragenol to determine the specific effects of its wide ranging benefits in specific diseases – the pharmaceutical companies seem to be dragging their feet with further research on cycloastragenol, but at Predator Nutrition we feel we didn't want you to miss out on this wide-ranging beneficial ingredient.
NUTRITION
Hydrapharm Cycloastragenol 60 capsules
Serving Size: 1 capsule
Servings Per Container: 60
Amount Per Serving
%DV**

* Daily value not established

Other ingredients: Microcrystalline Cellulose, Gelatin (capsule), Rice Flour, Magnesium Stearate
DIRECTIONS FOR USE
18-49 years old – Take 1-2 capsules daily on an empty stomach.50-69 years old – Take 2-3 capsules daily on an empty stomach.
70+ years – Take 5 capsules daily on an empty stomach.