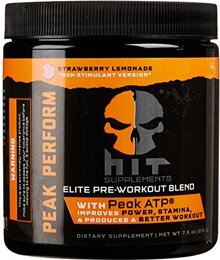 HIT Supplements Peak Perform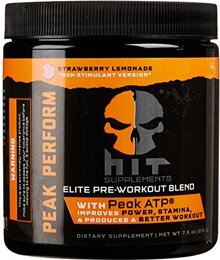 HIT Supplements Peak Perform
STIM-FREE
The Perfect Answer for
Maximum Performance.
Maximize Contractile Force*
Enhance Muscle Activation*
Increase Muscular Stamina*
Boost Mental Focus*
Performance Matters
You want to perform at your maximum, overcome every obstacle and wreak havoc on the competition? Yeah, we did too ... so we did something about it and made Peak Perform. You're welcome.
How We Made It Right
PEAK ATP
MORE ENERGY
Peak ATP enhances Muscular excitability,greater force output, velocity, and endurance.
BETAPOWER
BETAINE ANHYDROUS
BetaPower improves physical performance, especially strength, power and muscle endurance.
CARNOSYN
INCREASED CARNOSINE
Delay muscular fatigue and up-regulate creatine phosphate utilization. Promote muscular endurance and improve workout performance.
GLYCOCARN
NITRIC OXIDE
Aids in the production of nitric oxide and protects oxygenation from superoxide radicals.
WHAT Is Peak Performance?
By combining these three, highly effective, scientifically backed ingredients, we have created the most effective pre-workout on the market! This premium combination makes PEAK PERFORM the most beneficial supplement you can add to your pre workout regimen because it is clinically suggested to support lean muscle mass, muscle excitability, endurance, blood flow and decreased recovery time.*
When you put the work into training your body, you want to be able to push harder, train longer, and consistently perform better. With PEAK PERFORM you will truly be able to achieve your peak performance!*
You May Also Like
Peak Perform
Pre-Workout Powder For Explosive Workouts*
Igniter Extreme
Intense Pre-workout Formula!