Warning: This product is not currently available at any store.
Click the button above and PricePlow will email you when the first store has it in stock!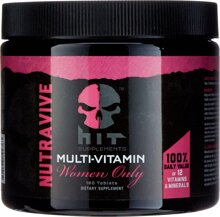 HIT Supplements Nutravive
Support Breast Health with more Vitamin D*
Support a Healthy Heart with Vitamins B6, B12, C, E, and Folic Acid*
Promote Reproductive health with Folic Acid, Magnesium, Zinc and Calcium.*
Healthy Skin with Vitamin A, Vitamin C, Copper and Iron*
L-Carnitine Tartrate supports strength, endurance and fat-burning during exercise*
Delay muscular fatigue with Beta-Alanine*
L-Citruline as a Nitric Oxide precursor*
High potency B-12 and full B-complex*
Why Nutravive Women Only?
Nutravive is a complete multivitamin specially formulated for the leading health needs of women, especially those who push their bodies to extremes... whether it is in the gym or just in daily life! A truly effective training regimen should not neglect good nutrition, but the fact is most of us are not getting all the nutrition we need, especially when it comes to gender-specific dietary essentials. Your body needs all the right nutritional components in order to reach your maximum potential, both in and out of the gym. Nutravive will help you bridge the gap! Including HIT's quality multi-vitamin in your daily routine will help feed your body with all the necessary micronutrients, vitamins and minerals, as well as a superior quality fruit and greens formula ideal for anyone who may be slacking in their daily fruit and veggie intake but wants to support health and a healthy immune system.*
When your body has all the right levels of vitamins and minerals working in harmony, you will support energy levels, a youthful and vibrant appearance, performance, muscle growth, and overall health.* HIT Supplements designed Nutravive to not only provide all the critical vitamins and minerals your body needs, but also added ingredients that will help support bone strength and the health of your heart, breasts, skin, and reproductive organs.* Nutravive is packed with all the essential B-complex vitamins, Beta-Alanine, L-Citrulline, and L-Carnitine to help assure that your muscles are receiving all the right nutrients to get the gains and performance you want. You train hard and face your life head-on; taking Nutravive will help you get the results you push for.*