Quick Links to Best Prices Price History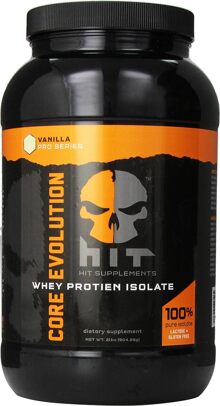 HIT Supplements Core Evolution
The Perfect Answer for
Maximum Growth.
24G HIGH QUALTIY WHEY PROTEIN
BCAAS AND L-GLUTAMINE
BUILD LEAN MUSCLE*
ASSISTS IN MUSCLE RECOVERY*
Performance Matters
Want improved physical performance, more lean muscle mass, and a body that will turn heads?
How We Made It Right
Whey Protein

Isolate
CORE EVOLUTION is a premium grade pure isolate whey protein packed with muscle-building amino acids! It is made with the highest quality pure isolate whey protein, which is vital to build and maintain lean body mass.* CORE EVOLUTION is loaded with 24 grams of protein and all the needed branched chain amino acids (BCAAs). This combination is ideal for helping you meet your daily protein requirements, and perfect for building and fueling new muscle growth and recovery.*
WHAT IS CORE EVOLUTION?
With 24 grams of muscle building pure isolate whey protein per serving, including BCAAs, CORE EVOLUTION supports recovery and maximizes muscle growth.*

Protein is extremely important for the growth and recovery of muscle tissue. Research suggests that taking protein before and after workouts is the best way to spark new muscle growth, enhance recovery, and gain more lean muscle than ever before. Pure isolate whey proteins are the ideal way to do this, because they contain key muscle building amino acids.*