Quick Links to Our Prices
How does this work and how do stores get listed? See our disclosure below to learn more. Price History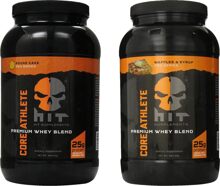 HIT Supplements Core Athlete
25g of high quality Whey Protein in each scoop
Advanced full-spectrum amino acid profile
Ultra-filtered, Non-denatured
Grass-fed and rBST free
Low-Carb, Low-Fat, USDA Kosher Whey
Aspartame Free
PREMIUM GRADE WITH NO FILLERS
CORE ATHLETE is a premium grade whey protein blend loaded with muscle-building amino acids.* It is designed specifically forindividuals looking for the highest quality protein, which is vital to build and maintain lean body mass. CORE ATHLETE ispacked with 25 grams of protein per serving and is rich in all the needed branched chain amino acids (BCAAs).An advanced amino acid profile provides the perfect form of Essential, Non-Essential, and Conditionally Essential amino acidsthat your body requires for optimum protein synthesis support.* This combination is ideal for helping you meet your dailyprotein requirements, and perfect to help promote building and fueling new muscle growth and recovery.* CORE ATHLETE isformulated without additives or fillers, is from grass-fed and rBST free cows and is instantized for greater absorptionand bio-availability. Including a quality whey protein blend before and after training may help enable your muscles torepair and rebuild more quickly which will help you see improved physical performance and increased lean body mass.*
WHAT DOES IT DO?
With 25 grams of muscle building pure whey protein per serving, including BCAAs, CORE ATHLETE may help support the repairof muscle tissues, which can help speed recovery and promote muscle growth.*
Protein is extremely important for the growth and repair of muscle tissue. Research has suggested thattaking protein before and after workouts is the best way to spark new muscle growth, speed muscle tissue repair, andgain more lean muscle than ever before. Pure isolate whey proteins are the ideal way to do this, because they containkey muscle building amino acids.*