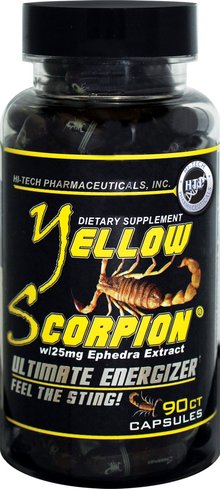 Hi-Tech Pharmaceuticals Yellow Scorpion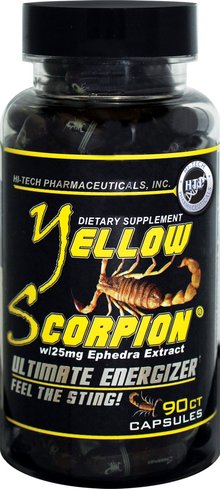 Hi-Tech Pharmaceuticals Yellow Scorpion
Hi-Tech Pharmaceuticals Yellow Scorpion contains 25 mg Thermo-Z brand ephedra extract and is made so you will feel the power of extreme energy! Hi-Tech Yellow Scorpion is a cutting edge stimulant product from Hi-Tech. Yellow Scorpion is not for the newbies or anyone not use to super strong stimulants! In addition to lighting you up with extreme energy and boosting your mood, the ingredients in Yellow Scorpion have also been shown to innervate many pathways associated with the weight loss cycle.

Yellow Scorpion is easily distinguished from the sizzling scorpion on its capsule, and its over-the-top packaging. Millions of people have enjoyed the effects of ephedra…now Yellow Scorpion takes extreme energy to another level!

Yellow Scorpion will cause you to feel the power of extreme energy the minute you take it!

It will be all over you for hours! The 'ECA' stack of the 90's is combined with Thermo-Rx from Acacia rigidula. Yellow Scorpion contains Thermo-Z brand ephedra extract (not banned in any state or by the FDA). If you don't want to be a wussie, try Yellow Scorpion and...
FEEL THE Power!!

Feel the Sting of Extreme Energy!

Not for the Yellow Bellied!
Supplement Facts:

Serving Size: 1 Capsule
Servings Per Container: 90

Amount Per Serving

Proprietary Blend 575 mg
Ephedra Extract 25 mg (leaves) Kola Nut Extract (150 mg Caffeine), White Willow Bark, Acacia Rigidula (leaves), Green Tea Extract (leaves), Theobromine, 1,3-Dimethylamylamine, Citrus Aurantium Extract (20 mg Synephrine), Chromium Picolinate, Yohimbe Extract (bark)

Other Ingredients: Dicalcium Phosphate, Sodium Starch Glycolate, Magnesium Stearate, Silica, FD&C Blue #1, FD&C Red #40, FD&C Yellow #6.

Directions: Take 1 capsule three times daily. Do not exceed 4 capsules in any 24 hour period.

Warnings: NOT for use by individuals under the age of 18 years. Do not use if you are pregnant or nursing. Individuals who consume caffeine with this product may experience serious adverse health effects. Individuals who are sensitive to the effects of caffeine should consult a licensed health care professional before consuming this product. Tamper Evident. Do Not Use if Printed Seal is Cut, Torn or Missing.
Note: Manufacturers continually change product specifications. While we try our best to keep product descriptions up to date, they do not necessarily reflect the latest information available from the manufacturer. We are not responsible for incorrect or outdated product descriptions and/or images.

These statements have not been evaluated by the Food and Drug Administration. This product is not intended to diagnose, treat, cure, or prevent any disease.