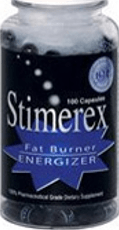 Hi-Tech Pharmaceuticals Stimerex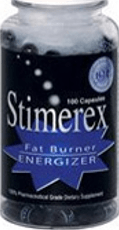 Hi-Tech Pharmaceuticals Stimerex
Stimerex has been upgraded!
Sorry, but the original Stimerex is no longer in stock.
Please see our Stimerex-ES or Stimerex Hardcore pages for the newer and improved versions!
The original Stimerex description:

Shed Bodyfat and Increase Energy with this Unique Formula!
The diet and weight loss pill, Stimerex was developed by a weight loss professional that had a significant amount of experience developing safe and effective stimulants. Dr. Mark Wright has spent plenty of time prescribing medications like Phentermine and Amphetamines. Once he became tired of all this he teamed up with Hi-Tech Pharmaceuticals to develop what is now known as America's Strongest Energizer.
Stimerex is a unique formula that goes unmatched in the industry! The Stimrex proprietary formula is made from high quality nutriceuticals. Best of all, it is available over-the-counter and without a prescription. Stimerex is guaranteed to meet or exceed you expectations and the purity claims that are found on the label.

Supplement Facts
Serving Size: 1 Capsule
Servings per Container: 90
Amount per Serving:
Proprietary Blend: 500mg
Citrus Aurantium (fruit)(17.5mg synephrine), acacia 70% extract (leaves), theobroma cocoa extract, phenylethlamine HCL, green tea extract, naringen (fruit), 3-dimethyl aminoethanol bitartrate, yohimbe extract (bark). Caffeine (anhydrous): 150mg
Other Ingredients:
Gelatin, Sodium laurel, Sulphate, Purified water, Sodium propionate, Edetate calcium, Disodium, Benzyl alcohol, Butyl paraben, Propyl paraben, Methyl paraben fd&c blue #1, Fd&c red #40

Directions
For best results take one capsule three times a day.