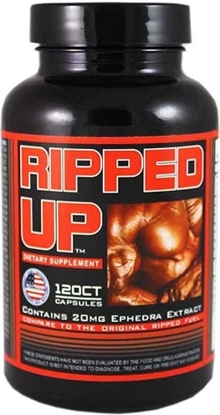 Hi-Tech Pharmaceuticals Ripped Up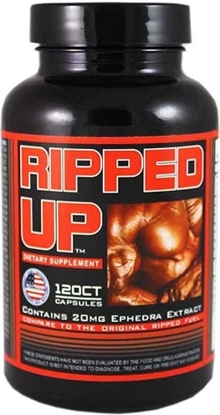 Hi-Tech Pharmaceuticals Ripped Up
Description
Ripped Up with Ephedra
120 Count
An earlier version of Ripped Up by Hi-Tech Pharmaceuticals contained ephedra, but with the banning of ephedra, this powerful diet and weight loss supplement was pulled off the market. An ephedra-free version was released, but that just didn't have the same kick or provide the same results as the original. Today, Ripped Up with ephedra can give you powerful weight loss support with powerful and safe ingredients. If you want to lose weight and keep it off, this is the diet supplement for you.
Ripped Up Reviews
While you might already be ready to try Ripped Up with ephedra, it's good to know that Ripped Up reviews have shown significant results for other dieters like you. With the proper diet and exercise plan, Ripped Up just accelerates your results and helps you create a long-term healthy lifestyle. You don't have to face weight loss, cravings, and low energy alone. Ripped Up diet pills will help you today.
What Ripped Up Is
Ripped Up diet pills are designed to meet your particular needs in mind. Whether you want to burn extra fat, have more energy, or suppress your appetite, Ripped Up can do it all. With the help of Ripped Up, you will have a powerful blend of ingredients, working together to push you toward your weight loss goal.
Ripped Up includes the following powerful ingredients:
20mg: Thermo-Z ephedra extract
Acacia rigidula
Chromium polynicotinate
Guarana extract (caffeine)
Theobromine
L-carnitine-l-tartrate
Yohimbe extract
Green tea extract
Those extra caffeine ingredients will help to not only stimulate you but also to encourage weight loss. As your body warms up, you will burn more calories, even when you're at rest. Acacia rigidula is another powerful and new ingredient in diet supplements today, helping to boost fat burning and to block fat storage.
---
Benefits of Ripped Up by Hi-Tech Pharmaceuticals
Using Ripped Up with ephedra diet pills makes sense when you need to lose weight, and you need support with your diet and exercise program. A pill alone can not help you, but Ripped Up will certainly support you as you begin to make healthy changes in your life.
---
Ripped Up will help with:
Appetite suppression: If you're a person who has troubles sticking to weight loss plans, you need Ripped Up. This supplement will help you feel less hungry, which will allow you to take in fewer calories.
Energy levels: You may also notice that your energy levels are much higher than before, with the help of Ripped Up. Because of the caffeine and ephedra, you will feel great, even when you're eating less and working out more.
Fat burning: The proprietary blend of safe and efficient ingredients in Ripped Up help you burn fat and keep it off your body.
To use Ripped Up correctly, just take two of the capsules twice daily. You should never take more than 6 capsules a day, according to Hi-Tech Pharmaceuticals.
These statements have not been evaluated by the Food and Drug Administration. This product is not intended to treat, cure, diagnose, or prevent any disease.