Warning: This product is not currently available at any store.
Click the button above and PricePlow will email you when the first store has it in stock!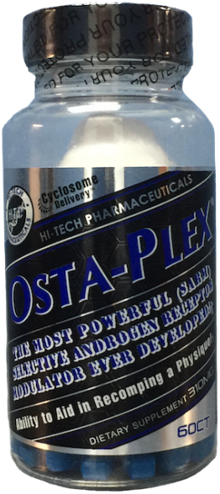 Hi-Tech Pharmaceuticals Osta-Plex
The world's first legal SARM?!
You better believe it! You can find all of the info on our Osta-Plex blog post, with the new research you need to see!
Hi-Tech Pharmaceuticals Osta-Plex SARM 60CT
The Most Powerful SARM for Recomping Your Physique!
Hi Tech Pharmaceuticals is back with one of the most sought after types of supplements in the sports nutrition industry, the SARM! Also called a Selective Androgen Receptor Modulator, SARM's are loved because the physique changes you can see after a few shorts weeks of taking them. Osta-Plex was formulated by Hi Tech Pharmaceuticals to help you totally recomp your physique giving you drastic changes towards your goals. You get all this with a 100% legal SARM!
Benefits & Results
Looking to change your entire physique? Take Osta-Plex for up to 8 weeks to see dramtic results!
Increase Lean Muscle Mass
Burn Fat & Excess Water Weight
Achieve That Ripped, Dry Look
Optimal Cyclosome Technology
To prevent the ingredients in SARMS from getting destroyed before reaching the bloodstream, Hi-Tech has created a proprietary delivery method called Cyclosome Technology. Taking something orally has its limits, and liposomal delivery combats this and increases bioavailability by a substantial amount. The testosterone increasing substances are trapped in liposomes and are able to pass through the liver without getting destroyed. Now they can be effectively delivered to where they are needed in the bloodstream, and you will see much more noticeable results.
Directions & Dosage
Hi Tech Pharmaceuticals recommends you take 1 tablet in the morning and 1 tablet in the evening. You can take it with or without food. Never exceed more than 4 tablets in 24 hours. This is only recommended for men. You can take for up to 8 weeks before taking at least 8 weeks off.
Post Cycle Therapy
If you want to decrease the chances of side effects and help restore the balance of testosterone and estrogen during your cycle, we recommend Hi-Tech Pharmaceuticals Arimiplex.
Recommended 12 Week Cycle
For Strength & Lean Muscle Mass: Start with 4 weeks of Hi Tech Pharma 1-AD, then jump right into 8 weeks of Osta-Plex (2 bottles) and Arimiplex (2 bottles).
For Mass & Muscle: Start with 4 weeks of Hi Tech Pharma Equibolin, then jump right into 8 weeks of Osta-Plex (2 bottles) and Arimiplex (2 bottles).
Ingredients & Supplement Facts
Serving Size: 1 Tablet Servings Per Container: 60 Amount Per Serving 19-nor-androst-4-ene-17-one Enathate 50mg
Eucommia Ulmoides 100:1 Extract (bark) 250mg
7-methoxy-8-(3-methylbut-2-en-1-yl)-2h-chromen-2-one 10mg
Other Ingredients: Microcrystalline Cellulose, Phosphatidylcholine 75%, Hydroxypropyl Beta Cyclodextrin, Phytosterols, Magnesium Stearate, Silica, FD&C Blue #2, FD&C Red #40.