Quick Links to Our Prices
How does this work and how do stores get listed? See our disclosure below to learn more. Price History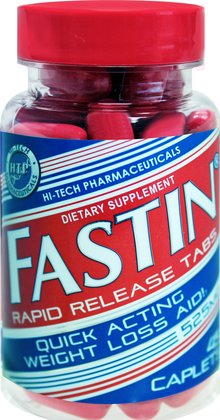 Hi-Tech Pharmaceuticals Fastin Rapid Release
Fastin Rapid Release is a Clinically-Proven Weight Loss and Energy Aid Proven to Help People Lose 208% more Weight and 385% More Fat than placebo!
Fastin Rapid Release is quantum leap in the field of Weight Loss backed by two Clinical Studies — One showed an Increase in the Metabolism by 22% in 45 minutes, and the Second study showed Fastin Rapid Release users lost 208% more WEIGHT and 385% MORE FAT than placebo! The results seen with Fastin Rapid Release were compared by Hi-Tech Researchers to previous studies on Ephedrine — the Gold Standard for OTC diet aids. The findings were amazing as Fastin Rapid Release was found to be 66% stronger than 30mg Ephedrine and 152% stronger than 10mg Ephedrine! Fastin Rapid Release is a state-of the-art weight loss aid manufactured by Hi-Tech Pharmaceuticals —where science never stands still!
Fastin Rapid Release Benefits:
Rapid Release for Weight-Loss and Energy- Feel It Fast!
Weight-Loss and Energy- Feel It Fast!
Increases Metabolism 22% in 45 Minutes!
The Most Technologically Advanced Diet Aid Ever Developed!
WARNING: NOT FOR USE BY INDIVIDUALS UNDER THE AGE OF 18 YEARS. DO NOT USE IF YOU ARE PREGNANT OR NURSING. THIS PRODUCT CAN RAISE BLOOD PRESSURE AND INTERFERE WITH OTHER DRUGS YOU MAY BE TAKING. TALK TO YOUR DOCTOR ABOUT THIS PRODUCT.

SALE TO PERSONS 17 YEARS OF AGE OR YOUNGER IS PROHIBITED.

INDIVIDUALS WHO CONSUME CAFFEINE WITH THIS PRODUCT MAY EXPERIENCE SERIOUS ADVERSE HEALTH EFFECTS. INDIVIDUALS WHO ARE SENSITIVE TO THE EFFECTS OF CAFFEINE SHOULD CONSULT A LICENSED HEALTH CARE PROFESSIONAL BEFORE CONSUMING THIS PRODUCT. DO NOT CONSUME SYNEPHRINE OR CAFFEINE FROM OTHER SOURCES, INCLUDING BUT NOT LIMITED
TO, COFFEE, TEA, SODA OR OTHER DIETARY PRODUCTS OR MEDICATIONS CONTAINING CAFFEINE OR PHENYLEPHRINE. DO NOT USE FOR MORE THAN 8 WEEKS. CONSULT WITH YOUR PHYSICIAN PRIOR TO USE IF YOU ARE TAKING MEDICATION, INCLUDING BUT NOT LIMITED TO MAOI INHIBITORS, ASPIRIN, ANTIDEPRESSANTS, NON-STEROIDAL ANTI-INFLAMMATORY DRUGS OR PRODUCTS CONTAINING PHENYLEPHRINE, EPHEDRINE, PSEUDO-EPHEDRINE, OR OTHER STIMULANTS. CONSULT YOUR PHYSICIAN PRIOR TO USE IF YOU HAVE A MEDICAL CONDITION, INCLUDING BUT NOT LIMITED TO, HEART, LIVER, KIDNEY, OR THYROID DISEASE, PSYCHIATRIC OR EPILEPTIC DISORDERS, DIFFICULTY URINATING, DIABETES, HIGH BLOOD PRESSURE, CARDIAC ARRHYTHMIA, RECURRENT HEADACHES, ENLARGED PROSTATE OR GLAUCOMA. DISCONTINUE 2 WEEKS PRIOR TO SURGERY OR IF YOU EXPERIENCE RAPID HEART BEAT, DIZZINESS, SEVERE HEADACHE OR SHORTNESS OF BREATH. IN CASE OF ACCIDENTAL OVERDOSE, SEEK PROFESSIONAL ASSISTANCE OR CONTACT A POISON CONTROL CENTER IMMEDIATELY. AVOID ALCOHOL WHILE TAKING THIS PRODUCT. EXCEEDING RECOMMENDED SERVING MAY CAUSE SERIOUS ADVERSE HEALTH EFFECTS, INCLUDING HEART ATTACK AND STROKE. IMPROPER USE OF THIS PRODUCT MAY BE HAZARDOUS TO A PERSON'S HEALTH.
THE SCIENCE
Fastin Rapid Release is a new weight and fat loss product from Hi-Tech Pharmaceuticals, Inc. ("Hi-Tech") that is unlike any Diet & Energy Aid to ever be released on the supplement market! Fastin Rapid Release is made with Explotab technology for an immediate burst of the active ingredients, providing rapid onset of explosive energy and thermogenesis. Fastin Rapid Release incorporates an advanced delivery system to put the ingredient powerhouse into action. Hi-Tech chose to use Explotab, which is remarkably effective for rapid disintegration and enhanced dissolution. The mechanism by which this action takes place involves accelerated absorption of water leading to an enormous increase in the volume of granules. This results is rapid and uniform tablet disintegration leading to increases in the Metabolism by 22% in 45 Minutes!
Fastin Rapid Release is revolutionary stimulant, fat loss aid, and helps people lose weight and feel great! Fastin Rapid Release works by mimicking the effects of our endogenous catecholamines such as epinephrine, norepinephrine and dopamine. The principal mechanism of its action relies on its indirect stimulation of the adrenergic receptor system, which is part of the sympathetic nervous system (SNS), by increasing the activity of noradrenaline at the post-synaptic a- and ß-receptors. Fastin Rapid Release has indirect sympathomimetic effects and due to its ability to cross the blood brain barrier, it is a CNS stimulant similar to ephedrine and other stimulants as it releases noradrenaline and dopamine. This helps you feel like doing more activities resulting in additional weight being lost due to exercise when combined with Fastin Rapid Release.
Fastin Rapid Release users saw an Incredible 16.6 % increase in Resting Energy Expenditure (Metabolism) over the first 3 hours with an increase of over 14.5% in Energy Uptake over the entire 6+ hours! These findings also indicate that Fastin Rapid Release produced a substantial shift in energy substrate utilization with significantly greater levels of fat oxidation. Fastin Rapid Release… Everyone is either using it or has heard about this remarkable feel-good nutritional product, whose ingredients have rapid stimulant effects that are a pleasure to experience.
According to Hi-Tech Researchers, "Fastin Rapid Release really is the pre-eminent diet aid on the market right now because unlike most of the weight loss supplements on the market, it actually has two product-specific studies that provide evidence of efficacy. One study was conducted on Fastin Rapid Release and its effects on the metabolic rate. The second study was an 8 week weight loss and fat loss study that showed it caused people to lose 208% more weight and 385% more fat than placebo! It is a product dieters can trust to help them achieve their weight loss goals." †
Below you will see the chart on Fastin Rapid Release, Caffeine at 300mg, and Placebo. As you can see Fastin Rapid Release surpasses both Caffeine and Placebo. The findings of the study indicate that Fastin Rapid Release promotes significant increases in resting energy expenditure (+22.1% at 45 minutes, +18.9% at 90 minutes, +15.9% at 3 hours, +12.6% at 4 1/2 hours, and +8.4% at 6 hours) post ingestion.
These findings also indicate that resting energy expenditure is significantly enhanced with Fastin Rapid Release. There was approximately 16.6% increase in resting energy expenditure over the first three hours of testing with an increase of over 14.5% in energy uptake over the entire six hour period. These findings also indicate that Fastin Rapid Release produced a substantial shift in energy substrate utilization with significantly greater levels of fat oxidation.
Fastin Rapid Release also works with extended release of some of its active ingredients. This promotes its awesome feel-good, energy-enhancing, and weight control effects throughout the day. There you have it. With Fastin Rapid Release, it's time to get ready to experience a spectacular mood, ride a blasting high energy wave throughout the entire day, and finally take control of your weight!
These statements have not been evaluated by the Food and Drug Administration. This product is not intended to treat, cure, diagnose, or prevent any disease. This product should not be used in place of or as a substitute for recommendations by your healthcare professional. No clinical study has been performed on Fastin. These statements are based upon the active ingredients: Phenylethylamine, Theobromine, 1,3 trimethylxanthine, Yohimbine, Synephrine, Methylsynephrine, 1,3 dimethylamine HCl,and N-methyl-B-phenylethylamine. WARNING: this product can raise blood pressure and interfere with other drugs you may be taking. Talk to your doctor about this product.
SUGGESTED USE
Take 1-2 tablets in the morning and 1 tablet after lunch. Do not exceed 4 tablets daily. Fastin is heat and moisture sensitive, and bottle should be kept sealed after opening. Keep desiccant in the bottle to stave off moisture.