Quick Links to Our Prices
How does this work and how do stores get listed? See our disclosure below to learn more. Price History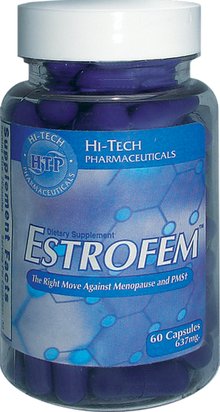 Hi-Tech Pharmaceuticals EstroFem
Hi-Tech Pharmaceuticals EstroFem Description
The Right Move Against Menopause and PMS
EstroFem is a one-of-a-kind nutraceutical for the support of women. The vitamin and trace mineral blend in EstroFem incorporates Vitamin E, B-1 (thiamin), B-2 (riboflavin), B-6 (pyridoxine), B-9 (folic acid), and the trace minerals selenium, chromium, and boron. These vitamins and minerals work together to reduce premenstrual, menstrual, and female symptoms by optimizing mitochondrial energy; decreasing sugar cravings, irritability and bloating; reducing hot flashes and night sweats; promoting healthy skin, nails, hair, and bone density; supporting healthy DNA function; and enhancing the effects of estrogenic compounds in the blood. The herbal extract blend incorporates the phytoestrogens that are at the heart and soul of EstroFem. These phytoestrogens include soy isoflavones, Trifolium pratense (red clover), Panax quinquefolius (ginseng), and Cimifuga racemosa (black cohosh). The primary phytoestrogen complex in EstroFem comes from soy isoflavones, which besides its estrogen benefits, also promotes healthy cell colonies. The soy isoflavones in EstroFem contain the tree major isoflavones: genistein and the precursor iso form genistin, daidzein and the precursor iso form diadzin, and glycitein and the precursor iso form glycitin. Also rich in isoflavones is red clover, which contains two additional isoflavones not found in soy: biochanin and formononetin. Ginseng and black cohosh also have phytoestrogenic qualities. These phytoestrogens help to ease female symptoms by decreasing hot flashes and night sweats, increasing libido, preventing mood swings, and by reducing menstrual cramps and psychological premenstrual symptoms. Additional herbal support compounds in EstroFem include green tea 7343 (epigallocatechin gallate-EGCG) and Valeriana officinalis (valerian). Green tea is a potent antioxidant, improves endothelial function, and helps with numerous other structural and functional age-related changes. Valerian contributes to a reduction in painful cramps from PMS and menstrual states of agitation (valerian decreases the degradation of GABA). EstroFem also incorporates additional feminine support compounds, including dehydroepiandrosterone (DHEA) and GABA. Women are invariably DHEA deficient. DHEA contributes to increased mood, and cardio protective action through vascular endothelium support. GABA increases serotonin, which decreases during the premenstrual cycle. Optimal levels of serotonin contribute to improved mood and a sense of well-being, better sleep, and reduce the propensity to overeat (particularly the binge eating of simple sugar carbohydrates). EstroFem is being used by more and more women to help promote optimal hormone balance.
EstroFem is the right move for symptomatic support for younger women, who are experiencing premenstrual and menstrual discomfort, and also for older women to restore well-being during aging and beyond. EstroFem is truly a breakthrough in women's wellness!
Directions
Take two (2) capsules daily. Best taken near mealtime.
DisclaimerThese statements have not been evaluated by the FDA. These products are not intended to diagnose, treat, cure, or prevent any disease.
Supplement Facts