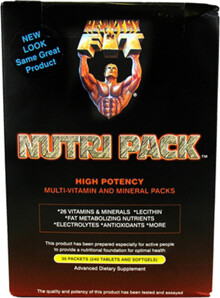 Healthy 'N Fit Nutri Pack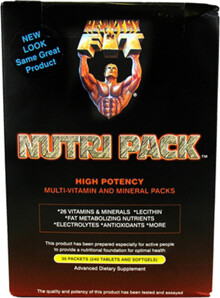 Healthy 'N Fit Nutri Pack
HIGH POTENCY MULTI-VITAMIN AND MINERAL PACKS
Contains:
26 VITAMINS & MINERALS
ELECTROLYTES
ANTIOXIDANTS
LECITHIN
FAT METABOLIZING NUTRIENTS*
MORE
Are you a serious athlete, bodybuilder, or fitness enthusiast?
If so, you may need more than just an average multi-vitamin. Nutri-Pack™ from Healthy 'N Fit is a high potency Multi-Vitamin and Multi-Mineral packets. A supplement like this is an essential foundation for every exercise program and supplement regimen. For over 30 years these vitamin packs have been supplying users around the world with a complete supply of all the essential vitamins and minerals needed daily, plus additional supporting nutrients.*
The potency of Nutri Packs is one of the highest available. Just compare our Super Nutri packs to other packs and you will see that they are higher in potency in more than half of the listed nutrients. IMPORTANT - Some competing brands require you to take two packs per day in order to get the listed potency. For Nutri-Pack, only one single packet is required per day.
Each Nutri-Pack contains a total of 8 tablets and softgels:
1 x Vitamins A & D (From natural fish liver oil)
1 x Vitamin E (Natural E complex with d-Alpha, d-Beta, d-Gamma, and d-Delta Tocopherols)
1 x Vitamin C
1 x Vitamin B-Complex
1 x Lecithin
3 x Chelated Minerals
Frequently Asked Questions:
Q: What is the difference between the Nutri-Pack and the Super-Nutri?
A: Both products are high potency formulations developed specifically for athletes, bodybuilders, and individuals who are physically active. The Super-Nutri has a greater amount of several nutrients such as Vitamins C, E, and the B-Complex Vitamins. The Super-Nutri also has 2 Amino Acid tablets and 2 Bee Pollen tablets. The Nutri-Pack contains a Lecithin softgel.
Either will make a great choice as the foundation to your supplement and exercise regimen and both blow away nearly every leading multi-vitamin in terms of amount on key nutrients such as Vitamin C, the B-Complex Vitamins, and Calcium. For most users the Nutri-Pack is the appropriate choice. Only more advanced and competitive athletes will need the higher potency of the Super-Nutri Packs.
Q: What are "Amino Acid Chelated" minerals and how are they different from regular mineral supplements?
A: The minerals used in supplements are chemically bound to another substance. You will see this if you look at any mineral product. For example, if you look at a calcium product the ingredient won't be just "Calcium", but rather will be "Calcium Carbonate", "Calcium Citrate", or some other form of calcium.
The form a mineral is in can have a major effect on how well the body absorbs that mineral. Amino Acid Chelated Minerals are minerals which are bound to amino acids. In general, these tend to be absorbed better by the body than many other commonly available forms of minerals. The amino acid chelated form of a mineral is closer to the form which is naturally occurring in most foods, and as such our bodies are more familiar with and better able to utilize them.
Q: When is the best time to take Nutri-Pack?
The best time to take Nutri-Pack is in the morning with your breakfast. If this does not fit into your schedule, you should take it with one of your primary meals during the day.
Q: Should I split the pack up into more than one serving?
A: If desired, you can split up when you take the tablets of which there are more than one of; the second serving would be best taken with dinner. For example, there are three Amino Acid Chelated Mineral tablets, you can take two in the morning and one in the evening.
Q: How can I tell which pill is which?
A: The smallest softgel is Vitamins A & D.
The medium softgel is Vitamin E.
The largest softgel is the Lecithin.
The beige oblong tablet is Vitamin C.
The yellow tablet is the Vitamin B Complex.
The three, speckled, off-white oblong tablets are the Amino Acid Chelated Minerals.
Q: Can I take more than one pack per day?
A: Nutri-Pack is a high potency formulation and one single pack will fully cover all of your vitamin and mineral supplement needs for a full day. We do not recommend taking more than one pack per day.
Q: What is the difference between the Nutri-Pack and a regular one-a-day multi-vitamin?
A: Strength and completeness of formulation. They can only fit so much "stuff" into one single pill, and you can see this most clearly when you compare the potency of the nutrients in our formulation to the one-per day vitamin companies'. More specifically, look at some of the most basic and important nutrients such as Vitamin C, Calcium, and Magnesium. You'll see that our formulation in many cases has anywhere from double to ten times as much of these nutrients.
Q: What is Lecithin and what are the benefits?
A: Lecithin has been used as a nutritional supplement for many years. It is a substance which is naturally rich in several nutrients including Phosphatidylcholine, Phosphatidylinositol, Phosphatidylethanolamine, Phosphatidylserine, Linoleic acid and, Linolenic acid. The Lecithin we use is standardized for 61% or greater Phosphatide content.
Q: I don't workout or exercise much, can I still use Nutri-Pack?
A: Anyone can benefit from Nutri-Pack. Though it is specifically formulated for athletes and bodybuilders, Nutri-Pack can help anyone meet their basic nutritional requirements and is a great addition to anyone's supplement regimen when used in combination with a healthy and balanced diet.