Warning: This product is not currently available at any store.
Click the button above and PricePlow will email you when the first store has it in stock!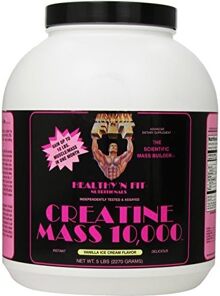 Healthy 'N Fit Creatine Mass 10,000
Creatine Mass 10,000 enables you to easily and conveniently add more mass building
amino acids and creatine quality calories to your diet.
To insure that you obtain the increased muscle/gain you desire, follow this simple information. Your body and your daily activity dictates how many calories you personally require to maintain you current weight. To determine how many calories you are currently consuming on average to maintain your current weight, you'll need to obtain a calorie book and add up all the calories you ingest during a 7-day period and then simply divide by 7 to get your average daily calorie intake. If you desire to gain one pound per week, simply ingest 3500 more calories per week; for example 500 more calories per day x 7 days - 3500 more calories per week. Since you desire a muscle/mass gain and not a fat gain, it is vital to add the correct amount and type of calories such as those found in Creatine Mass 10,000 to achieve increased muscle/mass. Note that the creatine monohydrate in this product can also increase muscle mass.*
Don't be fooled by those 2000, 3000, 4000 and now 5000 calorie weight gainers. Virtually all sciences including the sciences of nutritional biochemistries indicate that products of this type can be counterproductive and unhealthy, since ingesting that many extra calories daily as these type of products suggest, leads to a weight gain of primarily fat with very little muscle. These 2000-5000 calorie products are also much more expensive to use since they suggest that you use a very excessive amount of their product daily to obtain the excessive (fat building) calories they somehow boast of. For a muscle/mass building program, the sciences, expert athletes and top trainers indicate adding no more than 500-1000 extra quality calories to your daily diet.*