Quick Links to Best Prices Price History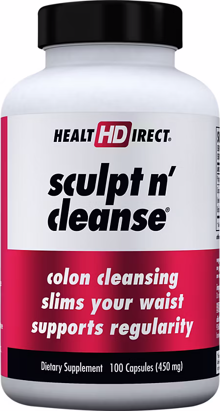 Health Direct Sculpt n' Cleanse
Product Label
Innovative Anti-Aging Solutions
Colon Cleansing Formula
Anti-Aging and Digestive Health
Supports Weight Loss**
Detoxify Your Body**
Flatten Your Waistline**
Boost Energy**
Gluten-Free, Vegetarian, Gentle, and Safe
Contains all-natural herbs in vegetable capsules. All herbs are tested to ensure purity and biological availability.
Contains NO binders, fillers or foreign materials.

Sculpt n' Cleanse is the most effective, yet gentle and safe colon cleansing formula available. It should be used in conjunction with any weight management, body shaping, anti-aging, general or digestive health program. Cleansing helps to eliminate toxins, chemicals, pollutants and poisons from our bodies.

Colon cleansing can be beneficial for:
     *Weight loss
     *Increasing energy
     *Relieving bloating
     *Improving skin appearance
     *Flattening the waistline
     *Promoting regularity
     *Relieving occasional constipation




NOTICE: This product contains aloe, rhubarb, cascara sagrada, and senna.

**These statements have not been evaluated by the Food and Drug Administration. This product is not intended to diagnose, treat, cure, or prevent disease.