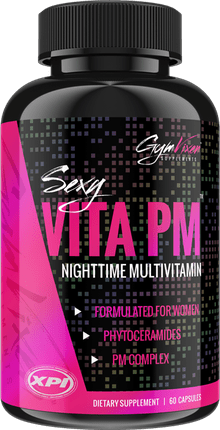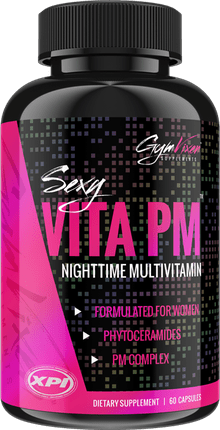 YOU HAVE NEVER HAD BEAUTY SLEEP LIKE THIS
Multivitamin For Women
Hair, Skin, & Nails Beauty Complex
Enhances Sleep Quality*
High Caliber, Clinically Dosed Ingredients
A MULTIVITAMIN DESIGNED FOR NIGHTTIME
Gym Vixen has formulated Sexy Vita PM, a multivitamin complex that works hard while you rest; A potent blend complete with essential vitamins and minerals, a beauty complex, and sleep promoting ingredients. Wake up feeling rested, refreshed, and recovered after the previous day's workout.* Sexy Vita PM can give you the support you need, day after day, so you can continue creating and maintaining the fit body of your dreams.
Sexy Vita PM contains vitamins A, B2 (Riboflavin), C, D3, E, K, and Biotin. Minerals Calcium, Zinc, Potassium, and Boron have also been included to create an efficient nutrient packing blend. However, what really makes Sexy Vita PM unique is the addition of the Hair, Skin, & Nails Beauty Complex, and the PM Complex. The Beauty Complex is composed of Ceramide-PCD, Alpha Lipoic Acid, and DMAE. Ceramide-PCD is derived from rice and helps rebuild skin, retain moisture, and has anti-inflammatory properties.[1] Nearly 40% of the outer skin layers are composed of ceramides. Alpha Lipoic Acid is a potent antioxidant that may help protect the skin against age related decline by repairing free radical damage. DMAE, or Dimethylaminoethanol, is another antioxidant that is claimed to help tighten and thicken the skin, therefor reducing wrinkles and fine lines.[2]
A good night's rest is just as vital for recovery and repair. The PM Complex consists of Valerian Root and Phosphatidylserine, which aids in providing quality sleep. Valerian Root can cause sedation by increasing GABA levels in the brain. Valerian does this by triggering GABA to be released from nerve endings, and then blocks GABA from being taken back into nerve cells.[3] GABA is a neurotransmitter that inhibits nerve transmission, resulting in a reduction of brain activity which promotes relaxation.* Phosphatidylserine is a lipid found in the cell membrane that has a cortisol reducing effect. Phosphatidylserine has been shown to also reduce the rise of cortisol and adrenocorticotropic hormone (ACTH) following strenuous training, and significantly minimize both ACTH and cortisol levels after exposure to physical stress.[4]
Want a multivitamin that helps you recover and enhances your natural beauty? Sexy Vita PM is designed to promote a restful sleep that allows you to rebuild and recharge, while helping strengthen your hair, skin, and nails.*
References [+]
References [-]
[1] Shimoda, Hiroshi, et al. Changes in ceramides and glucosylceramides in mouse skin and human epidermal equivalents by rice-derived glucosylceramide.Journal of medicinal food 15.12 (2012): 1064-1072. Retrieved on 16 Dec. 2016.
[2] Uhoda, Isabelle, et al. Split face study on the cutaneous tensile effect of 2?dimethylaminoethanol (deanol) gelSkin Research and Technology 8.3 (2002): 164-167. Retrieved on 16 Dec. 2016.
[3] Santos, M. S., et al. Synaptosomal GABA release as influenced by valerian root extract–involvement of the GABA carrier.Archives internationales de pharmacodynamie et de thérapie 327.2 (1993): 220-231. Retrieved on 16 Dec. 2016.
[4] Hellhammer, J., et al. Effects of soy lecithin phosphatidic acid and phosphatidylserine complex (PAS) on the endocrine and psychological responses to mental stress. Stress 7.2 (2004): 119-126. Retrieved on 16 Dec. 2016.
* RESULTS MAY VARY