Warning: This product is not currently available at any store.
Click the button above and PricePlow will email you when the first store has it in stock!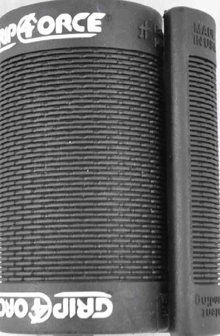 ALL ABOUT GRIP4ORCE
Spreads weight evenly for reduced negative joint strain
Internal Polymer Resistance Core Intermediate and Advanced
Anti-Slip Tread Design
Forces hand into active grip state
Converts bars and dumbells to larger 2" diameter
Can also be used as a stand alone hand grip device
Improves Mind Muscle Connection (MMC)
Target as close to 100% of total muscle fiber recruitment
Enhances stimulation to the working muscles
Increased Thumb, Wrist, Forearm, and Grip Strength
Strengthens Grip Strength while doing your normal exercises
Increased Wrist, Elbow, Shoulder Stability
Increased Arm Pump
SPORTS APPLICATIONS
Baseball
Basketball
Bowling
Climbing
Fishing
Strength Training
Football
Golf
Mixed Martial Arts
Military
Rehab
Tennis
Wrestling
Hockey
WHY TENSION IS A MUST
Grip4orce has an inner-core Resistance that thick or regular bars don't have. Why Tension? The act of squeezing the bar firmly is important for safety and crucial when looking to develop strength and muscle. With Grip4orce, the increased hand tension will produce an immediate increase in the force of joint flexion and extension, thereby promoting faster gains in grip strength and activating more hard-to-reach muscles throughout the body.
A muscle that is working hard will recruit the neighborhood of muscles, and if they are already a part of the action, it amplifies their strength.
Why GRIP4ORCE?
GRIP4ORCE PERFORMANCE ENHANCING GRIPS
If you are not familiar with thick-bars, they are simply barbells, dumbbells and cable attachments with a much thicker handle. A standard barbell or dumbbell typically has a handle with a diameter of about 1" inch. A thick bar will have a diameter of 2" - 3" inches. Grip4orce simulates a thick-bar with the larger 2" diameter and what sets it apart from thick-bars is the patent "Inner-core" resistance. The "Inner-core" technology was developed to eliminate a relaxed (static) grip. Grip4orce technology will allow the lifter to know when his hands are actively gripping the bar (all five digits) while at the same time building grip strength and increasing muscle tension through the added resistance levels (Intermediate & Advanced).
How and why is Grip4orce so effective
The interesting thing about Grip4orce is that many people have trouble seeing how something as simple as switching to a thick attachment with resistance can supposedly unlock such major muscle and strength gains,not just in the wrists, hands and forearms, but throughout the whole body. That understandable skepticism might change the first time you use Grip4orce.
WHY GRIP4ORCE WORKS SO WELL:
Principle of Irradiation / Harder muscle contraction
Grip4orce handles stimulate far more muscle activation in the wrists, hands, forearms and whole upper body. How does working the hands and forearms harder increase muscle and strength gains in the whole upper body? It works by the principle of irradiation. When you contract a muscle hard, the muscles around it contract as well. Therefore, to get a maximal contraction in your biceps, for example, you need to get your hands contracting maximally too. Often you will hear elite lifters talk about crushing the bar with your hands, squeezing the bar and staying tight. Squeezing the bar tight (Crushing grip) will allow your body to recruit more muscle fibers. Gripping hard increases full body neuromuscular activation. Note: If you clench both fists hard your whole body should tense up. This is called irradiation. What is happening is that the nerve impulses of surrounding muscles can amplify the effect of that muscle. Because Grip4orce makes your hands, wrist, and forearms work harder through the "Inner-core" resistance, the contractions in other muscles including the biceps and triceps and even the muscles in the shoulders, back and chest, will contract much harder which means greater strength and muscle recruitment. The great thing about Grip4orce training is that you have no choice but to grip the bar tight because of the "Inner-core" resistance. This will allow you to use the irradiation principle to the MAX!
Revolutionizing grip strength with Grip4orce
Gripping is one of the most important components for athletes. Sadly to say, grip, wrist, and forearms has often been relegated to an afterthought. Lifters might do a few wrist extensions or grip exercises after a training session. With Grip4orce, you are systematically training your grip, wrist, forearms and the most overlooked digit, the THUMB, the entire time; you don't even need to do any extra grip exercises. This will not only carry over to stronger hands but also develops functional gripping strength for all athletes. This is also great for saving time and allowing athletes to get the most from their workout.
There has to be constant feedback between the brain and the muscles. The necessity of constant squeezing causes a stronger mind-muscle link and more coordinated movements. This eliminates the lifter from just going through the motions.
Improves Mind Muscle connection (MMC)
There has to be constant feedback between the brain and the muscles. The necessity of constant squeezing causes a stronger mind-muscle link and more coordinated movements. This eliminates the lifter from just going through the motions.
Less stress on joints, fewer injuries, improve imbalances
This effect is thought to be because a thicker bar spreads the weight over a larger area of the palm of the hand (just imagine bench pressing) which, in turn, means that that weight is more evenly distributed throughout the entire arm. It's a bit like the difference between someone standing on you wearing sneakers and someone standing on you wearing high-heeled shoes. As a result, lifters who have long since given up various pressing movements are often able to perform pressing exercises again pain free the first time they use Grip4orce. In addition, Grip4orce also changes the biomechanics of the lift enough so that when you lift a dumbbell or barbell, forearms extensors (the muscles on the top of the forearm) and forearm flexors (the muscles on the bottom) both work similar amounts as well as the whole wrist. With standard bars and dumbbells, the forearm flexors do almost all the work with minimum work in the wrist which can cause imbalances, injuries, and tendonitis.
Post-tetanic potentiation (PTP)
Post-tetanic potentiation, or PTP, is a motor-learning concept defined in the Neuromechanical Basis of Kinesiology as "The magnitude of the twitch force is extremely variable and depends on the activation history of the muscle. A twitch elicited in a resting muscle does not represent the maximal twitch. Rather, twitch force is maximal following a brief tetanus. This effect is known as post-tetanic potentiation of twitch force." What this means effectively is that tightly gripping a larger bar will activate more motor units and lead to a greater muscle recruitment and force production during subsequent exercises. Simply put, do your warm-up sets with Grip4orce then perform your work sets with regular bars and dumbbells, you should notice the difference immediately.
How you can use Grip4orce to enhance performance
Grip4orce performance enhancing grips can be used a few ways. Use Grip4orce simply as a stand alone hand grip device working the hand, wrist, forearm in many specific exercises while sitting around the house or office. Use Grip4orce In the gym on barbells, dumbbells and cable attachments, for all accessory and warm-up exercises: rows, presses, deadlifts, and especially curls and triceps extensions.
Arm day with Grip4orce is what makes them so effective...major arm pumps! It is common for lifters to have to reduce the weight at first (in some cases significantly) which in reality shows the weakness in the muscle fibers that were not being worked in their normal lifts. Don't worry, with time your hands and forearms will quickly adapt, you will blow past your old max lifts and greatly enhance your body's overall performance.
GRIP4ORCE INSTRUCTIONS
Grip4orce should be grasped with the opening facing away from the palm. When closing Grip4orce down, place equal pressure with each finger to activate more muscle with virtually every exercise in the gym. Use Grip4orce in closed state on bar(s).
TESTIMONIALS
"These things are great! It's a can't miss for athletes looking to increase forearm and grip strength."
MONTY GIBSON-STRENGTH COACH TEXAS A&M AGGIES
"Grip4orce is the Trojan way to maximize grip strength!"
AARON AUSMUS-HEAD STRENGTH COACH USC TROJANS
"We love the grips! Your grips are well manufactured and heavy duty."
TOMMY MOFFIT-HEAD STRENGTH COACH LSU TIGERS.
"I use the Grip4orce extensively with our wrestlers as an added way to bridge weight room strength into mat strength.
Incorporating Grip4orce training into our pulling movements seems to have carried over very well to our grip strength in regards to wrist control.
Our guys say they have bear traps for hands now!
Pros about the Grip4orce
Anyone can squeeze the Grip4orce. I think most of the fat grips and fat bars out there are too thick if you have small hands.
Easy set up: you can easily put it on and take it off barbells, dumbbells, and machines regardless of the size of the handle unlike other similar products.
Very stable in your hands, doesn't get slippery from sweat.
Seems to be very durable."
JOSH STORMS M.ED, CSCS
SENIOR ASSISTANT COACH - SPORTS PERFORMANCE
"I have used other grip strengthening products in the past and the Grip4orce has become my favorite. They are easy to incorporate in any strength training program and the results are immediate. My athletes could feel a noticeable difference in their grip strength within the second week of training. The Grip4orce has become a regular part of our football strength training program and other sports."
CHRIS STEWART
DIRECTOR STRENGTH & CONDITIONING
UNIVERSITY OF RICHMOND
"It has become obvious that "fat bar" training can take your workout to a new level. This combined with the need to incorporate grip work into our programs as coaches, Grip4orce has met both needs head on. Without the expensive cost of retooling a weight room, my athletes are able to squeeze the Grip4orce sleeves on any bar or Dbell. The feedback from the athletes has been overwhelming with increased activation of wrist and forearms and isolating hard to reach muscles. I am excited about any low cost solution to being able to do everything I want to maximize results. In using these sleeves myself, I have become a fan especially of all chin up and rowing movements. The list is endless to find innovative ways to incorporate grip and fat bar movements in our weight room selection. I am a Fan!"
JUD LOGAN
HEAD TRACK AND FIELD COACH
ASHLAND UNIVERSITY
2008-2009 HEAD COACH OF THE YEAR
4X USA OLYMPIAN
"Grip4orce will be a DIFFERENCE Maker to any program that chooses to use your new grip strength product! In the short time our school has been using Grip4orce, we have noticed a remarkable difference in the grip strength of our athletes. Your product is the best new tool to enter the strength field in many years."
MICHAEL STROCK
SPEED & STRENGTH COACH
J.F. BYRNES HIGH SCHOOL 10x STATE CHAMPIONS
"The Canton McKinley Football program could not be more impressed with Grip4orce. We are always looking for an edge, and in a game that is played with your hands and requires great strength, Grip4orce provides it. Our guys get jacked-up about the pump they feel in their forearms, biceps, and triceps; and if the guys feel it, you know they'll use it!"
RON JOHNSON
HEAD FOOTBALL COACH
CANTON MCKINLEY
3X STATE CHAMPIONS
"I'm a HUGE believer of training your grip when it comes down to getting yourself stronger and more athletic. It's an often overlooked component of training both for athletes and non-athletes. I was hooked the first time I used the Grip 4orce thick grips for farmer walks. My other favorite movements to use the thick grips with are all of the different pull up variations there are and oddly enough, military presses. Now, I've got all of my athletes and clients using them and will continue to do so. What I love best about the gripers is that their easy to add to pretty much any movement you want as well as the fact that you have to keep your grip tight through the whole exercise. This really teaches the importance of squeezing the bar and keeping tension on your grip throughout the whole movement. Bottom Line - get your grip stronger = YOU get stronger!
Thanks Grip4orce for having an awesome product!"
TRAVIS STOEZTEL
OWNER OF THE FORGED ATHLETE GYM
REEBOK CROSSFIT GAMES COMPETITOR
"After using the G4's for an entire week I could feel like I was getting a forearm workout in all my lifts and additionally increased the grip strength on all machines and equipment. Furthermore it felt nice to think I had my own grips for every machine I used. The G4's are a great efficient and inexpensive way to get the best grip and forearm training available without having to worry about having to have an additional separate forearms and grip workout since they already provide all those benefits. The additional benefit you get with the G4's is an amazing forearm pump. Throughout the entire time I was using the G4's I felt my forearms exploding with blood which was an outstanding feeling. I would highly recommend the G4's to anyone looking to increase their grip and forearms strength and get all the extra benefits that come with the G4's."
ALEXANDRE CARNEIRO
IFBB PRO- PRO FITNESS MODEL
SPORTS NUTRITIONIST/TRAINER
"I have tried other thick bar sleeves and find that Grip4orce is the best on the market today. That fact that the finger flexors has to provide force to close the grip4force has two consequences – a tremendous strengthening effect AND clear feed back when the fingers fail to provide the necessary force and you can feel the grip4force open."
KARSTEN JENSEN
MSC, STRENGTH COACH
"I am a big fan of thick bars and thick grip work. For whatever reason, grabbing heavy things with the "Raptor Grip" and struggling to keep the hand on the weight seems to make people a better athlete. The problem has been for many of us is that this means buying another bar. One year, I had four bars in my home gym and my wife noted that "this seems a lot for one person training." So, of course, I asked her to join in! So, G4s are an inexpensive way to turn your barbell, kettlebell or dumbbell (or Pull Up bar, too) into a new kind of training tool. It is handy enough to take to the gym, too, if you don't have a home facility. Let's look at my recent notes on them: "Well, we added them to two things: Kettlebells and Pull Ups. For the guys prepping for the RKC snatch test, I decided that they needed to work their technique and the G4s were perfect for this. The challenge really cleaned up their movement. With the Pull Up bar, this was actually a better idea as a lot of my trainees now are middle aged (which seems to be anything over 25!) and this is stopping what I call MAPS (Middle Aged Pull Up Syndrome). It is a simple thing to add, but it stops the elbows from barking. Two theories: one, the bigger grip is "good" for the elbow somehow, and, two, the Pull Up can't be done anyway save in a controlled tense pull...limiting the issues with the elbow. So, so far, nothing but a thumbs up from me." So, from me...I have nothing but positive things to say about the G4."
COACH DAN JOHN
RANKED #1 IN THE WORLD HIGHLAND GAMES 45-49 MASTER PLEASANTON HIGHLAND GAMES CHAMPION 2X, AMERICAN MASTERS DISCUS CHAMPIONSHIPS SEVERAL TIMES NATIONAL MASTERS WEIGHTLIFITNG CHAMPIONSHIP 1X HOLDS THE AMERICAN RECORD IN THE WEIGHT PENTATHLON.
"The ability to cultivate true power comes when you complete the circuit of tightness and strength that exists from the hand and radiates to the rest of the body. The G4 grips are unmatched at getting this accomplished without taking anything away from the rest of training and sport. Athletes, if you want to crush your opponents you first need to crush the bar."
COACH JESSE BURDICK
ELITE LEVEL POWERLIFTER 3 WEIGHT CLASSES COACHES PROFESSIONAL, COLLEGIATE, NATIONAL COMPETITIVE ATHLETES ADVISORY BOARD MEMBER FOR MUSCLE & FITNESS, MENS HEALTH, POWER MAGAZINE
"I began incorporating Grip4orce into my training 13 weeks ago. Since my training is devised into 12 week blocks I wanted to see exactly how they would work if I spent a full 12 weeks using them. I'll never forget the first time I used them. I put them on 25 lbs dumbells and thought I was going to drop them on my toe. It was a real eye opener to how weak my grip was. I used the grips that workout, and noticed I didn't need to do the myriad number of sets I usually have to do to warm up my elbows too, hmm..some bicep activation maybe? At the end of the session, my fists were literally closed shut and my bis were completely loaded full of blood. As I kept using the grips my grip and my biceps got stronger and stronger. I don't give a rat's ass about how much I curl, but I was doing 30-40 more pounds on barbell curls by the end of the 12 weeks. I also put the grips around ropes, and used them for pushdowns, along with around a barbell for skullcrushers. I can't begin to tell you how awesome my tricep pumps were. I have all my athletes using these now, and I plan on continuing to use them as the results have exceeded my expectations. This is an awesome product."
JOHN MEADOWS, CSCS, CISSN
CREATOR OF THE MOUNTAIN DOG TRAINING AND NUTRITION SYSTEMS. TOP 5 FINISHER IN THE MR. USA AND MR. NORTH AMERICA BODYBUILDING CHAMPIONSHIPS
"After realizing just how big of an impact the G4 handles were having on my thumb strength, I have begun including them in my workouts every single week. I have found that using the Grip4orce handles with normal Dumbbell Bicep Curls hits the grip extremely well. Since using them, I have seen improvement in my Grippers, Pinch, and Open Hand grip strength, so they are going to remain a major part of my training."
JEDD JOHNSON, CSCS, RKC
CAPTAIN OF CRUSH REDNAIL CERTIFIED
WORLD RECORD HOLDER IN TWO HAND PINCH
"At my facility, we leave no stone unturned when it comes to developing strength. One of the areas that my athletes have become known for is their forearm size and crushing grip strength...and the Grip4orce has a lot to do with this! I even require my pro athletes to travel with them when they're on the road.
I can't recommend these things enough!"
JOE DEFRANCO
THE WORLDS #1 GYM FOR SERIOUS HARDCORE ATHLETES!
"Every combat athlete knows just how important grip strength is when it comes to fighting. The Grip4orce products are an amazingly simple and effective tool to increase grip strength without having to put in a ton of extra work to do. By incorporating the Grip4orce products into their workouts, fighters can quickly develop a crushing grip while saving time."
JOEL JAMINSON CSCS, NSCA-CPT, USAW
MMA STRENGTH & CONDITIONING COACH
"I've been using the Grip4orce at our facility and have loved the results! Grip strength and function is one of the most important aspects of fitness and functionality. The Grip4orce grips make sure the client or athlete seriously engages the grip, which is a very, very important cue for us at RESULTS FITNESS."
MIKE WUNSCH
DIRECTOR OF TRAINING, PROGRAM DESIGN,
AND GROUP COACHING RESULTS FITNESS
"When I first saw the Grip4orce products I thought, 'Good idea.' When I tried the Grip4orce products I said, 'This could be useful and fun.' I believe I was correct on both assessments and our trainees have been challenged by the use of adding what one could term their active hand and forearm involvement during many standard barbell and dumbbell movements. A direct and useful innovation."
DR. KEN LEISTNER
KEN LEISTNER IS AN AMERICAN STRENGTH TRAINING WRITER, PERSONAL TRAINER, STRENGTH CONSULTANT FOR THE NFL, AND CHIROPRACTOR. HE IS OFTEN KNOWN AS "DR.KEN".
"The Grip4orce is a deadly grip training tool that any serious strength and power athlete should use. I use it for my own workouts and I use it with my athletes because I KNOW that a set of strong hands means a STRONG MAN! There is NO place for weakness if you want to win and the Grip4orce is an awesome addition to our workouts! Thank YOU!"
ZACH EVEN - ESH / NJ
"It is a rare occasion when a new product hits the market that is truly revolutionary and also covers many bases while still being simple and functional. The new Grip4orce product does just that. It is a true genius in the world of strength training which delivers results by helping the athletes of any age or level develop not only stronger hands, but also more functional healthier hands all in a completely safe natural manner. As a leader in the strength and conditioning world I highly suggest that you get your hands on Grip4orce."
JOHN BROOKFIELD
CREATOR OF THE BATTLING ROPES TRAINING SYSTEM
MULTI WORLD RECORD HOLDER
AUTHOR OF "MASTERY OF HAND STRENGTH" AND "THE GRIP MASTER'S MANUAL"
"I used the Grip4force grips last night for the first time and I am hooked! I had a training partner use them with me and he could not believe how well they worked! I am excited to continue to use them as I am training for USAPL Master's Nationals in Atlanta on April 30-May."
BYRON NICHOLS
2007 USAPL NATIONAL BENCH CHAMPION
2007 MASTERS WORLD SILVER MEDALIST
2008 IPF OPEN WORLD 5th
"I'm a big advocate in the ol' saying "every cent counts" well Grip4orce are like another cent that you can add to your back account. The best thing I love about the Grip4orce and why I only use them at my private training facility is because they create tension by accident. As soon as you grab the bar with a Grip4orce in your hand you immediately feel tension radiate up your arms and into your shoulder and entire body this results in a stronger and safer lift."
GRANT LOFTHOUSE
CARDIO HATERS TRAINING
WOMEN'S HEALTH & FITNESS "WEIGHT TRAINING GURU"
MUSCLE FITNESS & CONTRIBUTOR
"With grip exercises being such an important part of any baseball player's strength program, Grip4orce handles can be used in every exercise in our strength program, challenging our player's grip strength, giving Cincinnati Reds players the competitive edge they need on the baseball field."
MATTHEW KRAUSE CSCS
MAJOR LEAGUE STRENGTH & CONDITIONING COORDINATOR
"The Grip4orce remains the only product to ever receive a perfect 100 from me. It's cheap, portable, easy to use, and, most of all, IT WORKS. Want to get stronger? Get Grip4orce."
MATT SATERNUS
STAFF WRITER/PRODUCT REVIEWER
"Grip strength is critical in being the best fighter I can be. I want my opponent to have that "oh no" moment when I grab them and they feel how strong I am. Grip4orce has taken my grip strength to a whole new level. Now no one can get away!"
TIM BOETSCH
AMERICAN MIXED MARTIAL ARTIST CURRENTLY FIGHTING IN THE MIDDLEWEIGHT DIVISION