Quick Links to Best Prices Price History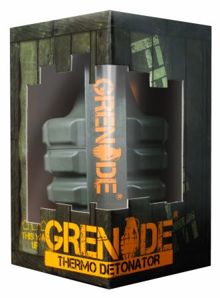 Grenade Thermo Detonator
Grenade is quickly becoming one of the most highly recommended and talked about supplements on the market today!
Advanced Thermogenic Formula*
Now Sold in Over 130 Countries
Contains Clinically Proven Fat Burning Ingredients*
Accelerates Metabolism*
Increases Mental Focus / Concentration*
NO Jitters, NO Cravings, NO Crash!*
Lasts 30% Longer Than Comparable Products *
Boost Your Metabolism
During any dieting program your body's metabolism (amount of calories you burn) decreases. Grenade Thermo Detonator can increase your metabolic rate, giving you a boost of energy as well as improving mental focus and concentration. Unlike other weight loss products/diet pills energy levels are maintained, even while on low/reduced calories, speeding your metabolism up and allowing you to train harder and potentially burn even more fat, meaning Grenade Thermo Detonator can be used as a pre workout motivator, making exercise easier and more effective. This is one of the reasons Grenade has such a loyal global following of military personnel including Special Forces in multiple countries.*
Increased Mental Focus / Energy Levels
Due to the unique blend of high quality ingredients Grenades' potent fat burner delivers explosive sustained energy without any jitters, cravings or crash! Used in conjunction with a calorie controlled diet and regular exercise programme, Grenade contains an arsenal of ingredients allowing you to DECLARE WAR ON FAT!!!!*
What is Grenade Thermo Detonator?
Grenade is a revolutionary thermogenic and pre workout motivator. Suitable for men and women, Grenade is rapidly becoming an essential supplement for fitness enthusiasts worldwide. Ranging from recreational gym members to professional athletes, avid Grenade users rave about the results both as a weight management system and pre workout energizer. When used synergistically with a sensible diet and exercise program, Grenade can increase your energy levels, mobilize fat and help you achieve the body you have always desired.*
Grenade Thermo Detonator is a fat-loss product that combines scientifically research ingredients designed to target body fat and preserve maximum lean muscle. Whether you're a professional athlete or an elite soldier, you don't want excess body fat slowing you down (or compromising your appearance) and you certainly don't want to lose muscle if you are training for an event, fighting for your country or just hanging out at the beach!
It's obvious, you want to keep all of your hard-earned muscle, improve your energy performance and blast the excess fat! That is exactly the philosophy behind Grenade – Thermo Detonator…to 'Declare War on Fat'…not muscle!
Grenade combines only the highest quality, maximum strength ingredients designed to 'ramp up' your metabolic rate and decrease your appetite without causing the jitters (as may be experience with other products.) Grenade delivers a sustained release of energy alertness, without the 'come down' or 'crash' at the end. Rest assured that in the formulation of Grenade, only the most effective ingredients have been deployed. Most people who've been around the block know that to burn fat you have to deliver the correct signals to stimulate the hormone norepinephrine (among others), which is believed to be the body's most important hormone in support of fat oxidation (using fat for energy). You also have to target specific parts of the brain to combat hunger. Grenade is designed to do both concurrently, while delivering improved mental and physical performance…but without any nasty side effects. So, if you want the most potent dosages of the most effective fat-burning ingredients along with a steady stream of energy and alertness but you also want to hang onto your hard-earned muscle, no product declares war on fat like Grenade.*
How It Works
Grenade Thermo Detonator is a weight-management product that combines perfectly with your high-protein, calorie controlled diet and exercise routine to "declare war on fat"!*
Grenade combines the highest quality, maximum potency ingredients to help support a metabolic rate and a level of appetite that could naturally support fat metabolism and weight management. With a massive 500mg of Green Tea extract per serving, Grenade packs just about the biggest punch in the industry with regard to this proven ingredient. Carefully processed green tea extracts contain specific levels of molecules called "catechins" – these are chemical polyphenols that have been shown to have positive effects on body weight and measurements and to have strong antioxidant and health-supportive properties.*
Of particular interest is the catechin "epigallocatechin gallate", which has been extensively clinically studied in several scientific studies and is probably the most important legal, natural molecule in the war on fat!*
Again, not scrimping on expensive, high-quality ingredients, Grenade delivers the highest Bitter Orange Peel levels of any major weight management product on the market! Why only use a sprinkling of effective ingredients, when you can deliver the goods with a proper dose? A full 420mg of Bitter Orange – also known as Citrus Aurantium, which naturally contains synephrine and octopamine – has been deployed. Most people who've been around the block know that this stuff packs a punch! Specifically, synephrine and octopamine have subtle effects on the hormone norepinephrine (among others) and this is believed to be the body's most important hormone in support of fat oxidation (using fat for energy).*
Caffeine Anhydrous has also been added, for its well-known ability to liberate fat from fat cells, further allowing its use as energy.*
Cayenne is a specific form of hot pepper extract, which has a well-known and researched effect on the feeling of heat production in the body and the essential amino acid phenylalanine is added as it may support thyroid function to maintain metabolic activity. Finally, Green Coffee, due to its unique cross section of active constituents such as chlorogenic acid, could also support the weight management process.*
We believe that this makes the Grenade formula just about as powerful as it can possibly be while maintaining its classification as a food supplement and without crossing the line into having significant drug-like effects. So if you want the highest and most potent dosages of the most important weight loss support ingredients all in one product, no product declares war on fat like Grenade!*
Grenade Thermo Detonator Ingredient Breakdown
Green Tea Extract (80% polyphenols, 45% epigallocatechin gallate, epicatechin)
Green tea, despite its modest name, contains certain active polyphenols that have been scientifically-demonstrated to have significant physiological effects, including fat loss, performance improvement and moderation of damaging cellular oxidation (antioxidant effects). Of particular interest is the catechin compound "epigallocatechin gallate", which has been extensively investigated in several scientific studies and may be the most important legal, natural molecule in the war on fat! The specific green tea material used in Grenade Thermo Detonator has been manufactured to optimize levels of this compound.*
Bitter Orange Extract (synephrine, octopamine, N-methyltyramine, tyramine, hordenine)
This ingredient is another custom-processed extract also known as citrus aurantium. Its principal active extract is synephrine, which is a sypathomimetic, meaning that it stimulates the hormones involved in mobilizing and oxidizing (burning) energy and it has been specifically shown to enhance lipolysis (fat breakdown).*

N-methyltyramine and tyramine have the ability to release catecholamines, which are the most powerful fat burning hormones in the human body. Octopamine is the N-methylated analogue of synephrine and it also has the ability to stimulate fat breakdown.*
Caffeine Anhydrous (1,3,7-trimethylxanthine)
Caffeine Anhydrous is a xanthine alkaloid that is well known in the scientific literature to mobilize fat from fatty tissue and to increase physical performance and mental focus.*
Grapefruit Seed Extract (6,7- dihydroxybergamottin)
The extract of grapefruit seed, dihydroxybergamottin, is known to prolong the effects of various compounds involved in the fat-burning process.*
Capsicum Annuum (capsaicin)
Prominent weight loss scientists have investigated the considerable research on capsaicin-containing natural ingredients and determined that they can both increase energy expenditure and fat oxidation (fat burning) so as to decrease the energy balance equation. This would of course be expected to reduce body fat levels.*
Evodiamine (evodia fructus extract)
The scientific literature describes evodia fruit as a "hot nature" herb. Evodiamine is currently undergoing intensive investigation for its "thermogenic", appetite-suppressing and "anti-obesity" effects that have already been demonstrated in the rodent model. These effects suggest increased fat and calorie burning along with decreased food cravings.*
Yohimbe Bark Extract (yohimbine)
Traditionally used as an aphrodisiac, yohimbine has been shown to increase the mobilization of fat and the secretion of fat-metabolising hormones in healthy men. Yohimbine appears to deliver its effects via blockade of the alpha-2 adrenoreceptor, which prolongs the metabolism of norepinephrine – the body's most potent fat-burning hormone.*
Raspberry Ketones [4-(4-hydroxyphenyl) butan-2-one]
Raspberry ketones work much like capsaicin and evodia and they are also being studied for their ability to resist fat gains in rodents fed high-fat diets.*
Phenylalanine (2-amino-3-phenylpropanoic acid)
This amino acid may help to elevate levels of the appetite-suppressing hormone cholecystokinin (a.k.a. CCK) and may promote better mood and attention levels.*
Cocoa Bean Extract (methylxanthines, flavanols)
In addition to supporting good blood flow and its antioxidant effects, it has been suggested that cocoa flavanols may improve parameters that may be impacted by the metabolic syndrome and obesity.*
B-phenethylamine HCl (B-PEA)
Phenethylamine is directly involved in the release of not only norepinephrine (which has already been discussed for its fat-burning effects) but also dopamine. Higher dopamine levels are associated with improved mood and concentration.*
Coleus Forskohlii (forskolin)
Forskolin has a direct influence on adenylate cyclase, this enzyme activates a second messenger called cAMP, which promotes the breakdown of fat in fat cells. This has been demonstrated in both humans and animals. It has also been shown to reduce body fat gains in adult humans.*
Yerba Mate Leaf (caffeine, theobromine and theophylline)
This is a favourite energy drink of many South Americans who consume it much like coffee. It has naturally high levels of xanthine stimulants that may increase metabolic rate and have other common stimulant effects.*
DMAE (dimethylaminoethanol)
This organic molecule is best known for its effects on alertness and mood and it may fuel neurotransmitter production in the body.*
Grenade Thermo Detonator Frequently Asked Questions
When and how should I take Grenade?
Always follow the instructions on the box. Take one serving (2 capsules) of Grenade with a large glass of water upon waking in the morning (ideally at least 30 minutes before breakfast). Take your second serving 30 minutes before lunch.
On training days, if you train before lunch, take your Grenade as usual. If you train after lunch, take your second serving about 30 minutes before your workout.
Taken 30 minutes before meals, Grenade supports decreased appetite so that you can make sensible food choices. Taken 30 minutes to 3½ hours before training, Grenade improves exercise performance and increases the use of fat for fuel.*
NOTE: If you exercise within 5 hours of bed time, then you may want to take your serving 5 hours before bedtime so that it doesn't interfere with sleep. Grenade will still have its positive effects on exercise performance and fat burning as long as it is taken within 3½ hours of beginning your training session.
NOTE: You should only take one capsule, twice daily for the first few days to assess your tolerance. Then, if you feel you'd like the full effects, take 2 capsules, twice daily. Always take Grenade Stop using Grenade if you feel unwell.
What kind of diet should I use to ensure best results when using Grenade?
Fortunately, Grenade not only helps you burn more fat and give you energy but it might also help to reduce your cravings for junk, enabling you to stick to a good diet.*
For best fat-loss results, cut down on all sugars in your diet and decrease your intake of starchy carbohydrates (so eat less bread, pastries, potatoes, rice, pasta, corn, etc). Also, eat lean proteins at each meal and snack (like fish, lean meat, chicken, eggs and protein supplements). Keep adjusting your sugar and starchy carbohydrates downward until you are consistently losing weight.
To further decrease hunger and for general health and gut function, eat plenty of green and other non-starchy vegetables.
Can I take Grenade with Whey Protein?
Yes, there is no problem taking Grenade in combination with whey protein. Whey protein is essentially just a carefully processed, high-protein food.
Can I take Grenade with other supplements?
Grenade can be taken along with most other supplements as long as they don't contain caffeine or other stimulants.
Can I take Grenade if I have high blood pressure?
If you have diagnosed high blood pressure and/or are on blood pressure medication we of course have to advise that you talk to your doctor about using any supplement product, including Grenade.
Grenade contains caffeine – a similar amount to a strong cup of coffee – which may increase blood pressure (although the elevation in blood pressure caused by caffeine is described by scientists as 'slight').
Grenade also contains Bitter Orange Peel, which has been shown in some studies to moderately increase blood pressure, although the most recent scientific research from the International Journal of Medical Sciences showed no increase in blood pressure or heart rate.
Importantly, if you don't drink coffee or tea or you are sensitive to caffeine, then proceed according to the directions and only take one capsule when you first use the product to assess your tolerance.
Can I take Grenade if I have a thyroid problem?
Even though the ingredients in Grenade are natural and safe, it will have an effect on metabolic rate and possibly other aspects of your metabolism, which could have an interaction with your thyroid medication. So we have to advise that you talk to your doctor before you use Grenade.
Can diabetics use Grenade?
If you have been diagnosed with diabetes and/or are taking medication, we strongly advise you to consult with your doctor or other health care professional before using any supplement, including Grenade.
A key ingredient in Grenade has the potential to affect energy levels in diabetics. Other ingredients may also have some impact on blood sugar and may possibly interact with diabetic medication.
Can I take Grenade if I am on other medication?
As with taking any supplement, making a major dietary change or starting an exercise program, if you are on medication, you should always consult your doctor or appropriate health care professional beforehand.
Can Grenade decrease water retention?
Grenade primarily works by supporting increased use of fat for fuel, metabolic rate and decreased appetite but some of the ingredients in Grenade (like caffeine) do have mild but well-recognized diuretic effects (supports greater water excretion). This effect can be further amplified by decreasing your dietary starch and sugar intake and increasing lean protein – which is something we recommend to ensure you get the best results from Grenade anyhow. You can also restrict your sodium intake to avoid excess water retention. Also, drinking 8 cups of water per day is important to avoid excess water retention, decrease appetite and for good health.
Can women take Grenade?
Grenade works equally well for both men and women. However, if you are pregnant or breastfeeding it is not recommended to take Grenade.
Do I need to exercise when taking Grenade?
Exercise will accelerate fat loss results whether you take Grenade or not but weight loss is achievable without exercise. We strongly recommend that you stick to an effective diet (see answer to 'what is the best diet when using Grenade) to achieve excellent results. Fortunately, Grenade supports decreased appetite and cravings.
How soon before I see results when using Grenade?
How quickly you see results depends upon how you personally react to Grenade, how much fat you have to lose and your diet and exercise program. Grenade not only supports an increased metabolic rate so that you burn more fat and calories but it also supports decreased appetite, so that you can make better food choices. For fastest results, we strongly recommend that you stick to an effective diet (see answer to 'what is the best diet when using Grenade).*
Of course, exercise (especially if it is of high-intensity and often), will also accelerate your weight loss results. Most people see results in the first week, so it's a good idea to weigh yourself once per week first thing in the morning on the same day of the week.*
I'm in the military, can I use Grenade?
Yes Grenade is a favorite supplement of US and UK military personnel as well as armed forces (inc Special Forces) around the world. In the UK, the tri service CDT teams are not allowed to endorse or recommend any products and will always refer serving personnel to only use supplements on the Informed Sport program. Although Grenade is safe for use, it is not on the Informed Sport program.*
Grenade does not contain substances like geranium / DMAA, ephedrine, prohormones, steroids or other ingredients which have been banned by the military and which are found in other supplements.
Moreover, Grenade conforms to the regulations laid down by the relevant authorities to qualify as a legal food supplement.
NOTE: If you are a member of another country's military, you will have to discuss the ingredients in Grenade with your armed forces' testing authority.
How long can I use Grenade for?
There is no cut off point with regard to how long you can use Grenade but you may want to take 2 weeks off the product for every 6 to 8 weeks you're on it. Once you have achieved your desired weight loss, you may choose to stop using it, or use it during times when you want to get a little leaner (like before summer, a special occasion or before a holiday). Some people use it before workouts to boost fat burning, performance, intensity and focus.*
I play competitive sports, can I use Grenade if I am going to be drug tested?
Grenade conforms to the regulations laid down by the relevant authorities to qualify as a legal food supplement. However, depending upon what your sporting organization tests for, it is possible that Grenade may lead to a positive (or a 'false positive') test. Grenade contains Bitter Orange, which has traces of a naturally-occurring amine called 'Octopamine'. This molecule is banned by W.A.D.A. (the World Anti-Doping Agency). Some sporting organizations may have more strict testing protocols and ban other ingredients too. So all tested athletes must consult with their drug testing authority before using any supplement, including Grenade.
What's the difference between the U.S. and the U.K. versions of Grenade?
The U.S. allows a wider range of ingredients to be used in nutritional supplements than the U.K. and Europe. Both of these versions of Grenade use the same core ingredients but the U.K. version uses higher dosages of the same core ingredients to achieve a very similar effect to the US product. Neither version is more effective or 'stronger' than the other. Generally, the yohimbe and some of the other stimulants in the US formula give a different kind of stimulant effect but both products have strong fat-loss and appetite-supressing benefits. The UK version has rapidly become the best-selling natural fat burner in the country and we get excellent feedback on it from customers, so our customers certainly believe that it is an effective product. Grenade is also the fastest-growing fat burner worldwide.*
What kind of exercise should I be doing to ensure best results when using Grenade?
For fat loss, ideally you want to do 2-3 HIIT workouts per week. HIIT (high-intensity interval training) is like cardio but you do intervals in which you alternate between high intensity (such as running) and low intensity (like a slow jog). The simplest example would be going on a treadmill, warming up for 5 minutes then doing 30 seconds at 18kph followed by 60 seconds at 8kph and doing 10 to 15 intervals. Obviously, you'd have to build up to this kind of intensity gradually but this kind of a workout is the best for burning fat. HIIT has been shown to burn much more in less time than regular, low-intensity, steady cardio.*
Along with this, doing three to four intense weight training sessions per week obviously improves muscle size and tone and larger muscles allow you to burn more fat throughout the day. Kris Gethins' DTP training is an excellent option that cranks up your metabolism substantially and is excellent for burning more fat than a traditional weight training session.*
Beyond that, you could do slow, steady cardio (walking or biking, etc) on the days that you don't do HIIT.
Scientific References
Carpene, C., J. Galitzky, E. Fontana, C Atgie, M. Lafontan, and M. Berlan. Selection activation of β3 adrenoceptors by octopamine: comparative studies in mammalian fat cells. Naunyn Schmiedebergs Arch Pharmacol. 359 (4): 310-321, 1999.
Boulton, A.A. The Tyramines: Functionally significant biogenic amines or metaboliv accidents? Life Sciences 23(7): 659-672, 1978.
Fontana, E., N.Morin, D. Prevot, and C. Carpene. Effects of octopamine on lipolysis, glucose transport and amine oxidation in mammalian fat cells. Comp Biochem Physiol Pharmacol, Toxicol Endocrinol. 125(1): 33-44, 2000.
Acheson KJ, Gremaud G, Meirim I, Montigon F, Krebs Y, Fay LB, Gay LJ, Schneiter P, Schindler C, Tappy L. Metabolic effects in humans: lipid oxidation or futile cycling? Am J Clin Nutr. 2004 Jan;79(1):40-6.
Woolf K, Bidwell WK, Carison AG. The effect of caffeine as an ergogenic aid in anaerobic exercise. Int J Sport Nutr Exerc Metab. 2008 Aug;18(4):412-29.
Hursel R, Westerterp-Plantenga MS. Thermogenic ingredients and body weight regulation. Int J Obes (Lond). 2010 Apr;34(4):659-69. Epub 2010 Feb 9.
Shi J, Yan J, Lei Q, Zhao J, Chen K, Yang D, Zhao X, Zhang Y. Intragastric administration of evodiamine suppresses NPY and AgRP gene expression in the hypothalamus and decreases food intake in rats. Brain Res. 2009 Jan 9;1247:71-8. Epub 2008 Oct 15.
Kobayashi Y, Nakano Y, Kizaki M, Hoshikuma K, Yokoo Y, Kamiya T. Capsaicin-like anti-obese activities of evodiamine from fruits of Evodia rutaecarpa, a vanilloid receptor agonist. Planta Med. 2001 Oct;67(7):628-33.
Galitzky, J et al. B2-antagonist compounds and lipid mobilization: evidence for a lipid mobilizing effect of oral yohimbine in healthy male volunteers. Eur J Clin Invest;18:5870594. 1988.
Morimoto C, Satoh Y, Hara M, Inoue S, Tsujita T, Okuda H. Anit obese action of raspberry ketone. Life Sci. 2005 May 27;77(2):194-204. Epub 2005 Feb 25.
Ballinger AB, Clark ML. L-phenylalanine releases cholecystokinin (CCK) and is associated with reduced food intake in humans: evidence for physiological role of CCK in control of eating. Metabolism. 1994 Jun;43(6):735-8.
Henderson S, Magu B, Rasmussen C, Lancastar S, Kerksick C, Smith P, Melton C, Cown P, Greenwood M, Earnest C, Almada A, Milnor P, Magrans T, Bowden R, Ounpraseuth S, Thomas A, Kreider RB. Effects of coleus forskohlii supplementation on body composition and haematological profiles in mildly overweight women. J Int Soc Sports Nutr. 2005 Dev 9;2:54-62.