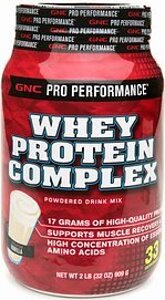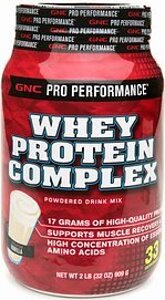 FULL SPECTRUM PROTEIN MIX
Features 17g of High-Wuality Protein and Only 4g of sugar
Supports Muscle Recovery and Growth
Great source of Essential of Essential Amino Acids and BCAA
THE BENEFITS OF PROTEIN
GNC Pro Performance Whey Protein Complex combines protein from whey, soy, caseinate and egg to provide you with a full spectrum of amino acids.
Protein serves as a dietary source of amino acids. The body needs amino acids to build the various proteins used in the growth, repair and maintenance of body tissues such as skin, bones and muscles. More specifically, it supplies branched chain amino acids (BCAA) to athletes. BCAA are essential amino acids, which are part of muscle protein. They may preserve muscle glycogen stores and help reduce the amount of protein breakdown during exercise.
PROTEIN CONSUMPTION
Depending on your athletic goals, your protein requirements can vary. serious athletes should consume approximately one gram of protein per pound of body weight. This should be spread over four to six small meals. Inadequate protein in your diet can limit muscle protein synthesis which can compromise your athletic goals. The amino acids from whye protein move quickly through the digestive system. The consumption of these protein will result in a rapid rise in blood amino acids and stimulate protein synthesis.
Whey Protein Complex can be taken immediately before and/or after your workout to support muscle protein synthesis.
Typical Amino Acid Profile:
STACK WITH: GNC Pro Performance® RapidDrive® Arginine 5000™ and Creatine Monohydrate 5000.