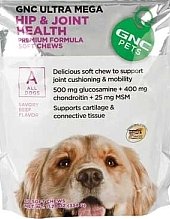 GNC Ultra Mega Hip & Joint Health for All Dogs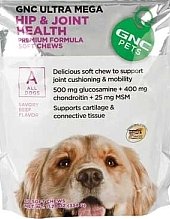 GNC Ultra Mega Hip & Joint Health for All Dogs
Life Stage: A- All Dogs
Delicious soft chew to support joint cushioning & mobility
500 mg glucosamine + 400 mg chondroitin + 25 mg MSM
Supports cartilage & connective tissue
This premium hip and joint soft chew is a delicious alterative for dogs who have an aversion to pills. It is scientifically formulated with high-quality ingredients that support connective tissue and help maintain normal, healthy joint function and mobility. It includes beneficial glucosamine and chondrotin, structural components of joint tissue that help maintain joint function. This advanced formula also features MSM and hyaluronic acid. Hyaluronic acid helps to cushion joints. MSM contains sulfur which is an important component of joint cartilage.
Caution:
Safe use in pregnant animals or animals intended for breeding has not been proven. Consult with your veterinarian before using this product in animals: with clotting disorders; being treated with anticoagulant medications; with diabetes or any metabolic disorder causing hyperglycemia; with a history of urinary tract stones; with known allergies to shellfish. If lameness worsens, discontinue use and contact your veterinarian. Administer during or after the animal has eaten to reduce incidence of gastrointestinal upset. Federal law prohibits the off-label use of this product in ruminants.
Warning:
For animal use only. Keep out of reach of children and animals. In case of accidental overdose, contact a health professional immediately.
Savory Beef Flavor