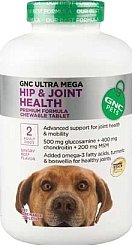 GNC Ultra Mega Hip & Joint Health for Adult Dogs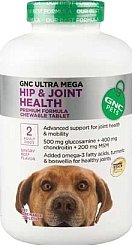 GNC Ultra Mega Hip & Joint Health for Adult Dogs
Life Stage: 2- Adult Dogs
Supports joint cushioning & mobility
500 mg glucosamine + 400 mg chondroitin + 200 mg MSM
Added omega-3 fatty acids, turmeric & boswellia for healthy joints
Caution:
Safe use in pregnant animals or animals intended for breeding has not been proven. Consult with your veterinarian before using this product in animals: with clotting disorders; being treated with anticoagulant medications; with diabetes or any metabolic disorder causing hyperglycemia; with a history of urinary tract stones; with known allergies to shellfish. If lameness worsens, discontinue use and contact your veterinarian. Administer during or after the animal has eaten to reduce incidence of gastrointestinal upset. Federal law prohibits the off-label use of this product in ruminants.
Warning:
For animal use only. Keep out of reach of children and animals. In case of accidental overdose, contact a health professional immediately.
Savory Beef Flavor
Please see attached label for complete instructions and Product Facts.